SHANGHAI: Amid low birth rates and an aging population, the country's largest metropolis looks set to receive a shot of much-needed growth.
Its population is expected to hit 19 million by 2010, up from 18.58 million last year, the Shanghai municipal population and family planning commission said recently.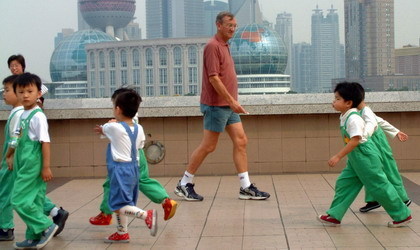 Children play in the Bund in Shanghai in this file photo. Officials have said the city appears to be experiencing a "mini peak" in its birth rate, compared with the low rates of recent years. [China Daily]
Shanghai saw a slight population increase last year when about 160,000 babies were born in the city, up 20 percent from the previous year. Officials have said it appears Shanghai is experiencing a "mini peak" in its birth rate compared to the low rates of recent years.
The director of the Shanghai family planning commission, Xie Lingli, said the year 2007, observed in the Chinese lunar calendar as the Year of The Golden Pig, might have led to a spike in the number of births as many couples believed it was good luck to have a child last year.
Similarly, the upcoming Beijing Olympics this year is seen as fueling another baby boom across the country since many couples want their children born during this auspicious time.
The Shanghai commission alone expects 175,000 babies to be born in the city this year.
At the same time, experts say the 6.6 million migrant workers, who work in Shanghai as construction workers, maids, shop and restaurant attendants and vegetable sellers, have partly contributed to these rising numbers.
Migrant workers tend to have more babies than the average Shanghai resident, Fudan University population institute director Peng Xizhe said.
"Besides, many of them would rather give birth and bring up their children in Shanghai due to the city's better medical services and comparatively lower prices, which help boost the city's population," he added.
The city last year also introduced a series of preferential policies for pregnant wives of migrant workers to give birth at a cost as low as 800 yuan ($114), officials said.
Still, while migrant workers offer some relief to Shanghai's declining population, the city still faces tough challenges ahead.
Shanghai today maintains a low birth rate - about 0.95 children per family on average - while Beijing's figure is 1.3, official figures showed. Meanwhile, in both cities, residents above the age of 60 now account for more than 10 percent of their population, and the number is rising, officials said.
"Though people are encouraged and even obliged to follow the family planning policy, more and more young couples have opted not to have a child," Shanghai University sociology professor Gu Jun said.
"Many young couples have changed traditional attitudes about having children, due to the fast-paced life and economic development," Gu said.
A sample survey of young people in Shanghai 25 years ago between the ages of 18 and 30 showed that, on average, they wanted two children at least. But a similar survey conducted five years ago revealed that 81.5 percent of them wanted only one child.
"Neither of my husband nor I am willing to trade our present, relatively happy and high-quality life, at the expense of bringing up a child," said Lu Qing, 33, a local office clerk who has been married for six years.
"Besides, we are afraid of problems taking care of the child after coming home from work," she said.
Like Lu, many DINK (Double Income No Kids) couples in the country often mention the high cost of raising a child as a reason for not having one. Healthcare, education and housing are all costly, they have said.
Apart from an unbalanced age structure and disparity in the sexes, the city is also facing an increasing number of elderly accounting for almost one-fifth of residents, commission officials said.
To solve the problem, officials have suggested banning the use of ultrasound to identify the sex of babies, and to prevent medical staff from helping young couples carry out abortions when the parents find out the fetus is female.
The city should also take measures to cope with a mounting aged population, commission officials said.