BEIJING - For long, some westerners have been observing Tibet through tainted glassed and applying double standards in assessing the so-called human rights issue in Tibet.
They insisted on doing so even after the March 14 incident in Lhasa, spreading irresponsible opinions that confounded right and wrong.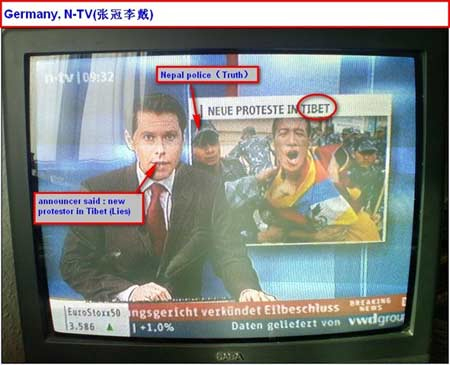 N-TV, headquartered in Germany, used TV footage showing police with captured protestors in a report on the Tibet riots. The footage had been shot in Nepal, the police were Nepalese. [Xinhua]
Ample facts showed that the Lhasa riots were violent crimes of beating, smashing, looting and burning. The riots seriously infringed on human rights, endangered life and property and sabotaged the social order.
Turning a blind eye to the atrocities, some people purposely distorted the facts and described these events as "peaceful demonstrations" to slander the Chinese government's legitimate efforts to maintain social stability as "suppression".
Special coverage:
Lhasa Riots
Related readings:


 Netizens slam CNN's distortion of riot picture


 Journalists' Association berates Western media


 Countries urged to see 'true face' of Dalai Lama


 Students rap media 'hegemony'


 Netizens slam German media's Tibet coverage


 German media apologize for errors in covering Tibet riots


 Foreigners in Tibet: Western media reports inaccurate
From readers:
Man should never act as low as CNN
Do these people really care about Tibet's human rights?
Everyone has the right to life, liberty and security, which together are essential to human rights. But the riot caused many deaths and serious injuries to hundreds of innocent civilians. The victims included an 8-month-old boy, who was burned to death by rioters in his home.
"No one shall be subjected to torture or to cruel, inhuman or degrading treatment or punishment," read the Universal Declaration of Human Rights adopted and proclaimed by the General Assembly of the United Nations on December 10, 1948.
In face of these atrocities, we can't help asking whether this article of the declaration rang a bell for some westerners who used "human rights" as a platitude for all occasions.
The right to development, along with the right to life, are two fundamental rights commonly regarded by the international community as inalienable human rights.
Some people, however, have long looked at Tibetans' development through rose-colored glasses. They intentionally distorted facts and denied that Tibet was experiencing its best era of development and stability and Tibetans were enjoying the broadest human rights ever.
Under centuries-long feudal serfdom, the Tibetan serfs were politically oppressed, economically exploited and frequently persecuted.
A saying circulated among serfs: "All a serf can carry away is his own shadow, and all he can leave behind is his footprints." It is perhaps safe to say that Tibet's serf system represents the worst systematic abuse of human rights in human history.
Today's Tibet, however, has achieved unprecedented progress. Economic output has exceeded 30 billion yuan (about US$4.3 billion) and maintained an annual growth rate of more than 12 percent for seven consecutive years.