Beijing is upgrading its metro ticketing system with magnetic cards set to replace the current paper tickets in two months.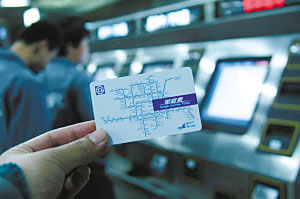 A New magnetic ticket for Beijing metro. [thebeijingnews.com]
The Beijing subway control center said on Tuesday that single-journey magnetic tickets are expected to be put into use in late May on all of the city's metro lines. Automatic cashiers to sell and collect the cards are undergoing testing.
In 2006, Beijing introduced a refillable smart card for regular public transportation users. Subway riders who don't own smart cards must purchase paper tickets.
Under the new system, commuters without the smart card can buy a magnetic card from an automatic cashier at the station and return it before leaving the subway. The system is similar to the one currently used in Shanghai.
Each magnetic card will be printed with Beijing's subway map, including the current five lines and four new routes soon to be in use.