An ancient city in East China launched its annual tourism festival Wednesday, promoting the Venice-like water town landscape and tourist attractions reminiscent of stories in Chinese classical literature.
Liaocheng is located in East China's Shandong Province, where rivers and lakes surround the city. It is the only city north of the Yangtze River that has the most water bodies around it.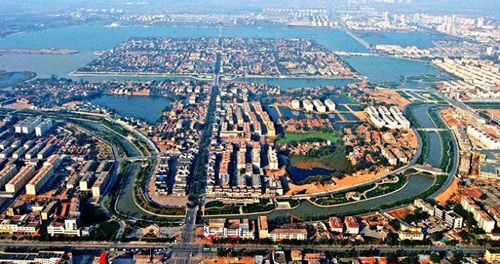 An overview of the city of Liaocheng in East China's Shandong Province.
The ancient city was built where the Yellow River and the Grand Canal meet. The canal connects Liaocheng, Beijing and Hangzhou together. Twenty large rivers surround Liaocheng, each of them with a drainage area of more than 30 square kilometers.
In the center of the town lies the emerald-colored Dong Chang Lake, which encloses a square-shaped piece of land where the ancient town Dong Chang, now known as Liaocheng resides.
Not only water, but also a rich history and culture make up the charm of the town. Liaocheng boasts a 6,000-year history and has a collection of ancient architectural pieces. The Guangyue Pavilion was built in 1374, and unlike other famous Chinese pavilions, many of which were rebuilt on the original site, Guangyue has stood through centuries.
"As a historical and cultural city protected on the national level, Liaocheng impresses visitors with its rich history and civilization," said mayor Lin Fenghai on a promotional event in Beijing. This year is the seventh tourist festival and also marks the 10th anniversary of Liaocheng being promoted from prefecture to city.
He suggests the most interesting parts of the city to visit would be those written in well-known Chinese classics. The Romance of Three Kingdoms, the Tale of the Water Margin and Jin Ping Mei have stories that take place in Liaocheng.
According to the mayor, Liaocheng is also dubbed the "paper-cutting hometown" and "acrobatics hometown".
Last year, Liaocheng hosted more than 5 million visitors from home and abroad and earned 3 billion yuan of revenues from tourism.
The municipal government is trying every means to protect its water resources and keep the air clean while engaged to developing its manufacturing industry.
"We are just temporary visitors in the eco-world, and our offspring still need to live in this world," Lin said, vowing to be environmentally responsible to tourists and future generations.