Lu Xiaojun, 22, an ethnic Miao minority member from a farmer's family in Guangxi Zhuang autonomous region, probably never thought he would make national headlines.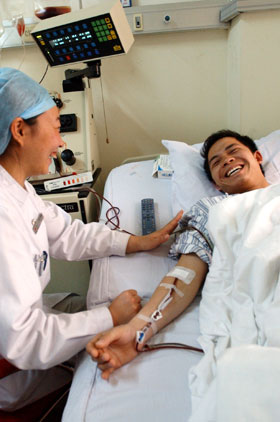 A nurse talks with Lu Xiaojun on Tuesday at Daopei Hospital in Beijing while extracting blood stem cell. [Xinhua]
But that's exactly what happened yesterday when he heroically donated cells to a 22 year-old-patient in Taiwan with acute myeloid leukemia.
It was the second time a Taiwan patient had received stem cells from a mainland donor after the first recipient case last July.
"I didn't hesitate when I was told my donation could save the life of a Taiwan compatriot across the strait," Lu told China Daily yesterday at Daopei Hospital, where he had been undergoing extractions, organized by the Chinese Marrow Donor Program, since last Wednesday.
"Being able to match the marrow type successfully shows we share some relationship in fate," he said.
"The chance of a match is one in 100,000 among people who are not blood relatives," said Wu Tong, the director of bone marrow transplantation department of the Daopei Hospital.
Lu said he was feeling comfortable other than for a slightly swollen arm.
Lu chose to become a volunteer blood donor in Guangxi last April, and was told seven months later that a recipient with perfectly matching Human Leukocyte Antigens (HLA) was awaiting his precious gift in Taiwan.
A nurse at the Taiwan-based Taipei Veterans General Hospital, Xiao Yongzhi, escorted the box of stem cells back to Taipei last night.
"I couldn't help be nervous until my son told me he felt all right with a big smile when he came out of the blood cell separator room," Lu's 52-year- old father, who accompanied Lu to Beijing last week, told China Daily yesterday.
"We live in the rural area where people know little about blood donation, but now hematopoietic stem cell transplant is no longer abstract medical jargon for us in our hometown," he said.
Su Juxiang, the vice-president of China Red Cross Society, yesterday said the mainland's unrelated marrow donor program was trying to grow the stem cell database over 1 million pieces by 2010.