NANNING - President Hu Jintao spent the Spring Festival, a traditional family reunion holiday for the Chinese, in southern Guangxi Zhuang Autonomous Region, which was heavily hit by the worst winter storm in five decades.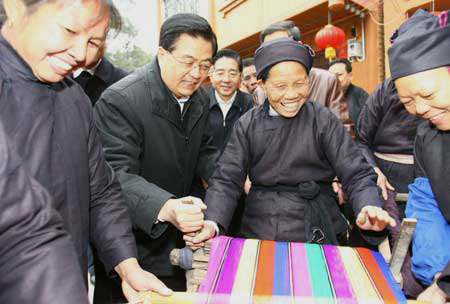 Chinese President Hu Jintao helps local women weave traditional colorful cloth on Friday while visiting Baise, an old revolutionary base in South China's Guangxi Zhuang Autonomous Region. [Xinhua] 
Hu, also general secretary of the Central Committee of the Communist Party of China, visited local residents, soldiers and workers still on duty during the red-letter day.
It was the fifth year in a row that the president spent the festival outside Beijing with ordinary citizens.
On Thursday, the first day of the lunar new year, Hu called on an armed police barrack in Nanning, capital of Guangxi, extending new year wishes to the policemen there.
Hu said he hoped them "further enhance the capabilities of fulfilling duties in a new social environment, resolutely carry out the tasks assigned by the Party and people, and make new contributions to guaranteeing the people's good living and safeguarding the country's safety and social stability."
Unusual winter weather damaged more than 6,700 power transmission lines of the China Southern Power Grid (CSPG), affecting power supply to 90 counties.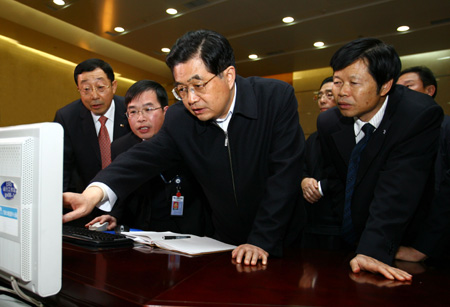 Chinese President Hu Jintao (C) points at a screen while visiting Guangxi Power Grid Co.Ltd in southwest China's Guangxi Zhuang Autonomous Region, Feb. 7, 2008. Hu Jintao made an inspection tour in Guangxi between Feb. 5 and Feb. 8. [Xinhua]
Workers have restored nearly 60 percent of the damaged lines, fully or partly resuming the services to 88 counties by Thursday.
Hu paid a visit to the CSPG branch in Guangxi. "You have done a tough job, bringing people a bright and warm Spring Festival. The Party and people thank you," Hu told the company's employees.
The President urged them to finish repairing the damaged lines as soon as possible and ensure stable operation of the repaired grid.
At Nanning's mail processing center, Hu praised the postmen for working hard to keep mail services basically in operation in the face of the severe disaster.
Hu also toured Baise, an old revolutionary base in western Guangxi on Friday. "I am glad to see you and your neighbors have pretty houses and enjoy good lives," Hu told a rural family.
The central government will issue more policies to benefit agriculture and farmers and especially beef up the support for ethnic minorities in the new year, he said.
After visiting an revolutionary memorial at Baise, Hu urged carrying forward glorious revolutionary traditions while firmly pushing forward the reform and opening-up drive.