BEIJING -- As most Chinese prepared dinners for Lunar New Year's Eve family reunions, Premier Wen Jiabao had a busy travel schedule that took him around the country's winter disaster areas.
On Wednesday afternoon, Wen hastened to the eastern province of Jiangxi where he visited the city of Fuzhou, which has been in the dark for more than 20 days.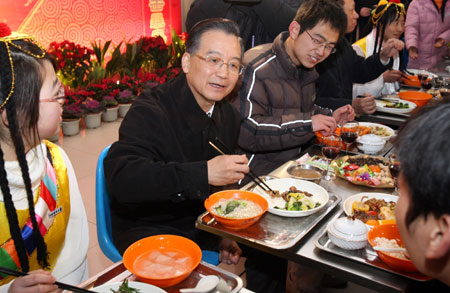 Chinese Premier Wen Jiabao (C) has Lunar New Year's Eve dinner together with students who were stranded by the snowstorm in Jiangxi University of Finance and Economics February 6, 2008. The premier is visiting the snow-plagued regions during the Spring Festival. [Xinhua]
Wen said: "We lost much in the weather disaster. For instance, some mandarins (oranges) died and trees were toppled. But we also got many things, such as courage, will and the ability to overcome difficulties. Amid the disaster, relations between officials and the masses strengthened and people became more united."
Learning that electricity was expected to be restored at about 8 p.m. Wednesday in the city, Wen said that he felt reassured. He showed more concern about agricultural restoration, urging local farmers to prepare seeds and fertilizer for the spring planting season.
Then Wen visited Jiangxi University of Finance and Economics, where he had Lunar New Year dinner with students who couldn't go home for holiday.
The trip meant that it was the fifth Lunar New Year's Eve in a row on which Wen didn't go home but spend the holiday with the public.
Wen visited southwestern Guizhou Province on Tuesday before he came to Jiangxi. His visit to Guizhou and Jiangxi provinces was his third to disaster areas in the past nine days.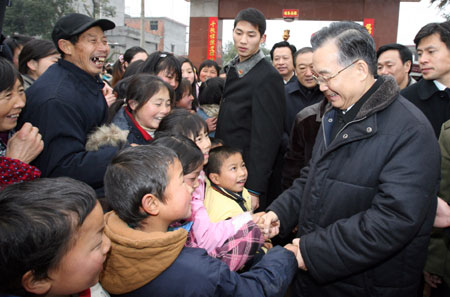 Chinese Premier Wen Jiabao (Right) talks to children in snow-plagued Fuzhou of East China's Jiangxi Province February 6, 2008, the Chinese Lunar New Year's Eve. The premier is visiting the snowstorm-hit regions during the Spring Festival. [Xinhua] 
"Only when the masses are reassured, can the country be at peace. Only when the country is at peace, can the leaders be relieved," he said on the flight to Guizhou. "Relief work has come to a critical point. We should not be slack, but keep pushing it forward."
Amid a widespread blackout, Guizhou is one of the worst hit provinces. Upon arriving in Guiyang, the provincial capital at around 2 p.m. Tuesday, Wen hit the road to Guanyin village, Longli County of Qiannan Buyi and Miao ethnic autonomous prefecture. His route took him through elevations of more than 1,200 meters to areas that had just been hit by sleet, places shrouded in white snow and pine forests toppled from ice.
Entering the village, the premier inspected an electricity line repair site first. Through a narrow, winding mountain road, he arrived at the site halfway up a mountain. Walking into a crowd of workers, he amiably asked them: "Where are you from? How many days have you been here?"
After finding that most had traveled from neighboring Yunnan Province to help with relief work, Wen said: "Guizhou is encountering difficulties in restoring electricity. Besides the strength of the province, support and aid from other places are needed. Only when the electricity supply returns to normal, can the economy and the entire society resume normal operations."
He told the workers: "When disaster struck, help came from all sides, which indicated the superiority of China's socialism."
The premier then visited the home of villager Wang Zhenli, where he saw several villagers making glutinous rice cakes, a local traditional food for the New Year celebrations. Wen said: "Let me join you in making it."
Learning that the trees on one of the three mu of forest land owned by villager Wang had been destroyed by the weather, Wen encouraged Wang to remain confident and replant some seedlings when the weather improved.
Concerned about market supplies and commodity prices, Wen visited a privately owned supermarket in Guiyang city, asking about the prices of produce, grain and pork at several booths. Learning that supplies were sufficient and prices stable, he looked happy.
During his visit to the supermarket, Wen encountered a senior citizen and his granddaughter who were shopping for Lunar New Year. Looking over their shopping basket, Wen told the old man: "Guizhou Province was seriously hit by the extreme weather, I am not assured and the Spring Festival is coming, so I come to have a look."
The man replied: "We see you busy in the icy and snowy weather in the past several days, even coming to Guizhou. We are so moved."