GUANGZHOU - Hu Xiaoyan is the archetypal migrant worker.
The 34-year-old and her husband are employed in the same factory - and her twin daughters are back home with grandparents.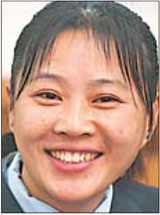 She hails from Sichuan - one of the biggest sources of human resources - and works in Guangdong - the manufacturing hub which hires millions of migrant workers.
But Hu will go where none of her ilk has gone before: To the National People's Congress (NPC) as a representative of the southern province. On Monday, she became the first migrant worker to be elected a deputy.
Hu, one of 10 best migrant workers in Foshan last year, received a text message from a colleague at 4 pm on Monday saying she won the election.
"I couldn't believe I was elected.
"I suddenly felt that I would have a greater responsibility and need to know more about many issues."
Hu is one of 160 deputies elected from 192 nominees at the 11th Guangdong provincial people's congress.
"This is a new beginning for me," Hu said.
"I am only a junior high school graduate. But I am confident of fulfilling my duties."
She said migrant workers do the hardest work yet have little access to training or medical insurance.
"I will convey the views of migrant workers to the National People's Congress so that their concerns over welfare and career development can be heard."
Hu can draw on plenty of experience. In 1999, she landed a job at an electronics factory in Foshan, Guangdong, after she left her hometown where she was a kindergarten teacher and a mother of twin daughters.
She switched from one factory to another, before settling down at a ceramic factory.
A woman of passion and motivation, she spent most of her spare time learning skills from her peers, which paved the way for a job at Foshan Guangdong Newpearl Ceramics Group in 2002.
She was soon promoted to be a workshop supervisor overseeing 280 workers, and earning 2,000 yuan ($277) a month, three times more than she started in Guangdong.
She has a sense of self-fulfillment but also feels the pangs of separation from her daughters.
The girls, 11, can only visit Hu and her husband twice a year. "I speak with them on the phone every week," Hu said.
A major reason she did not bring them with her is the high tuition fees for children of migrants in Guangdong.
And much as she misses them, Hu puts work first.
In 2005, when one of the daughters became seriously ill, Hu said her boss told her she could go back home and take care of her.
"But a new product was ready to be launched from my workshop."
She stayed back.