WUHAN - Four more days of heavy snow, from Friday to Monday are forecast for central China's Hubei and Hunan provinces, said officials Thursday afternoon.
The snow was expected to put more pressure on the power supply in the province, said Tang Wenquan, general manager of the provincial electricity company.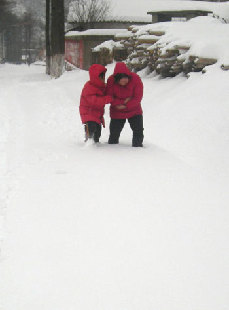 Two villagers make their way through the heavy snow in Yuexi County of Anhui Province, January 20, 2008. [Xinhua] 
Three power transmission towers along a major line of the Three Gorges Dam and a link in the central China transmission system were felled on Wednesday morning by heavy snow and thick ice, putting the provincial electricity supply under greater pressure.
Conditions are expected to worsen and the provincial electricity company said it will take at least 50 days to repair them.
According to the local electricity bureau, 15,000 people have been carrying out repair work.
The snowfall estimated to be from five centimeters to 70 centimeters  in different areas of the province .
The continuous snow since January 11 has affected more than 8.1 million people, and caused losses amounting to 1.61 billion yuan (223.6 million U.S. dollars).
The local government relocated 76,400 people and allocated 10 million yuan (138.9 million U.S. dollars) in relief funds, spending 10 yuan per person each day.
By Thursday morning, Hunan province reported three people dead, 44,000 injured or ill, and 307,000 stranded in 13 cities and towns.
Losses since January 12 were estimated at 3.3 billion yuan (458.3 million U.S. dollars). The snow had resulted in the collapse of about 11,000 homes, damage to 676,000 hectares of crops and 33,000 head of livestock dead, according to the provincial civil affairs bureau.
The provincial government had allocated five million yuan (69.4 million U.S. dollars) and more than 20,000 quilts to affected people. The government of Xiangxi Autonomous prefecture released eight million yuan (1.11 million U.S. dollars), 2,400 quilts and 350,000 items of clothing.
Almost half buses in the four long-distance bus stations are out of operation. The west and south stations can only carry 10,000 people a day, about half the usual number.
The snow, the worst in a decade in many places, has hit most of the country since January 12, leaving homes collapsed, power blackouts, highways closed and crops destroyed.
Eight people have died in snow-related accidents, according to the Ministry of Civil Affairs. About 32.9 million people have been affected in 10 provinces across China, including east Anhui, central Hubei and west Xinjiang Autonomous Region. Total damages are estimated at 6.23 billion yuan (865.3 million U.S. dollars).
The central government have allocated money and materials to affected areas to guarantee basic living standards for people effected.