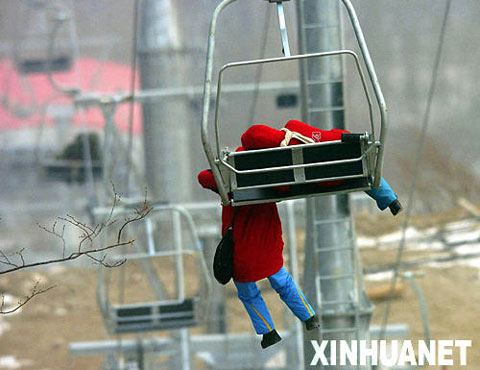 Hou Shuangmei, a broadcaster at the 11th China Winter Games in Yabuli, Heilongjiang Province, dangles in mid-air from a moving ski lift on Wednesday, January 23, 2008. A colleague tried to hold on to her but seconds later she lost her grip and fell several meters to the ground. Late Wednesday night she was in a serious condition.[xinhuanet]
A female broadcaster was badly injured Wednesday after falling five meters off a chairlift at the 11th National Winter Games in Northeast China's Heilongjiang Province.
She was diagnosed fractures on her both ankles and the lumbar vertebra at a local hospital after the accident.
Soon afterwards she was sent to another hospital in the capital city of Harbin for emergency surgery, said a spokesman for the ongoing winter games.
The injured woman is Hou Shuangmei, who was an announcer for the ski jumping results. As she was leaving the venue with another broadcaster, she fell from the chairlift after she could not hold onto her colleague sitting next to her.
The chairlift only has seats and protective handrails, unlike cable cars that are enclosed. The freezing weather conditions of minus 25 degrees Celsius with light snow and north winds could be factors in the accident, according to media reports.
A reporter and a spectator also fell from the chairlift in separate accidents on Wednesday. The reporter fell from a height of two meters, the spectator from one meter. Both sustained minor injuries.
As the venue for the skiing and biathlon events of the XXIV Universade in January next year, the safety of equipment and transportation mechanisms needs lots of improvement at the Yabuli skiing resort, said an expert of winter games.