SHENYANG: The restructuring of State-owned enterprises (SOEs) in Liaoning province, the country's traditional industrial base, is almost complete, with 1.7 million laid-off workers having secured new jobs, a senior official said yesterday.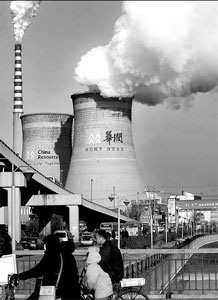 Smoke billows from stacks at a thermal power plant operated by the State-owned conglomerate China Resources Corp in Shenyang, Liaoning province, as people walk just yards away in this file photo.
[China Daily] 
Ninety percent of large-scale SOEs and all small-to-medium ones have been restructured, with many helping form the backbone of the province's economy due to a 45 percent increase in profits last year, acting governor Chen Zhenggao said in his work report to the province's people's congress.
"We have won this campaign and realized harmonious development, thanks to the nation's support to rejuvenate the rust belt. And Liaoning has entered a new stage, its best, in history," Chen said.
Liaoning, which was an important industrial base under China's planned economy, slipped into the doldrums when the country began to adopt reform and opening up three decades ago.
Most SOEs faced bankruptcy and up to 1.76 million workers were laid off.
In response, the central government put forward a strategy to invigorate Northeast China in September 2003.
With such support, the majority of SOEs changed their ownership through mergers, the establishment of shareholding systems and the introduction of domestic and foreign investment.
Figures from the local economics commission show that the number of SOEs in Liaoning fell from a high of 9,000 to less than 1,400 in 2006.
Thirty-four large SOEs, including the Shenyang Machine Tool (Group) Co Ltd, Shenyang North Heavy Industry Group and Shenyang Blower Works Group, have gone public.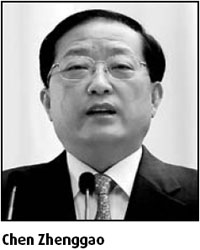 In 2004, the Shenyang Machine Tool Group, a giant in the national machine tool industry, bought out German firm Schiess.
Wang Guanglin, a researcher with the Liaoning Provincial Academy of Social Sciences, said: "Liaoning has seen fast expansion in the equipment manufacturing sector."
TBEA, a leading producer of transformers, moved its headquarters from the Xinjiang Uygur autonomous region to Shenyang, capital of Liaoning province, attracted by the rich talent pool and good business environment, its general manager Ye Jun said.
Last year, Liaoning's gross domestic product exceeded 1 trillion yuan ($138 billion) for the first time.
It is the eighth region in the country to record a GDP of more than 1 trillion yuan.
In addition, the local government has been working on a social security network and continuing to create jobs for laid-off workers, Chen said.