Beijing's metro system will run longer than normal during the summer Olympic Games period, and may even run around the clock on the days of the opening and closing ceremonies of the Games, Xie Zhengguang, general manager of the Beijing Mass Transit Railway Operation Corp., Ltd, said.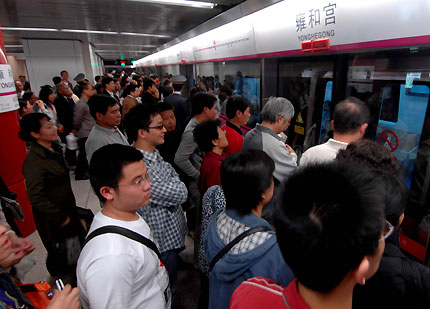 The Yonghegong station of Beijing subway line 5. [File photo] 
As the Olympics approaches, traffic flow on the metro is surging, especially at transfer stations. To better tackle the traffic problem and ensure orderly operations, the railway company has taken some new measures to increase capacity.
According to Xie, the interval between schedules at peak time will be shortened from four minutes to three minutes on the new subway line 5, and from three minutes to two and a half minutes on subway line 2. On the Batong line, the interval will be reduced to three minutes from the previous three and a half minutes.
The interval schedules for new lines, such as line 10 and other branches for the Olympic Games, will remain undecided until after the trial tests in May. The intervals may be kept at four minutes for the branch lines.
Besides the time adjustment that should effectively disperse the heavy traffic flow, the railway company will add more railway liners in due time.
Xie said the auto ticket machine will be put into use this June. Passengers will then be required to swap cards at the entrance and exit of the subway. Paper tickets will be replaced with circulation cards similar in size to the public transport IC card.