JINAN - The province of Shandong is targeting a gross domestic product (GDP) of 4 trillion yuan ($552 billion) by 2012, with per capita GDP up to $5,000, acting governor Jiang Daming said Sunday.
In his report to the first session of the 11th Shandong people's congress, Jiang said the province is aiming for an average GDP growth rate of 10 percent in the coming five years.
Last year, its GDP rose to 2.6 trillion yuan, with a per capita GDP of more than $3,866 - both 2.5 times those of 2002.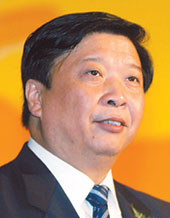 Jiang Daming 
Based on official figures for 2006, Shandong's GDP last year is expected to account for 10.6 percent of the national total, following behind Guangdong and Taiwan provinces.
To transform Shandong from being a "large" economic province to a "strong" one, the province still needs to focus its efforts on creating new advantages for itself, the official said.
Such efforts include converting economic growth that is mainly reliant on investment and exports into one where there is a coordinated motivation of consumption, investment and exports.
There are also plans to move from a reliance on secondary industries to a combination of the primary, secondary and tertiary industries.
Shandong is also striving for the science and technology sector to contribute 55 percent to economic growth by 2012 - with improvements in science and technology development, workers' comprehensive capacities and management innovation.
"Realizing such a goal will need independent innovation," the official said.
The province will encourage technology research and development in key areas including electronic information, biotechnologies, oceanic technologies and new materials.
It will also establish and improve all kinds of technology innovation platforms, including the construction of the National Information and Technology Innovation Park, the State Software Export and Innovation New Base and the State Outsourcing Base City in Jinan.
It is also working towards the setting up of the National Bio-industries Base and the National Oceanic Science Research Center in the city of Qingdao.
"We will pay close attention to the fostering of medium- and small-sized, new and hi-tech enterprises...
"We will also intensify the construction of pilot and demonstration bases in the region to help transfer advanced scientific and technological results into practical productivity," Jiang said.
Considered one of the country's major agricultural provinces, Shandong is also focusing on speeding up development of the sector.
"Shandong adheres to the most stringent protective regulations for arable land and aims to maintain yearly grain production at 40 billion kg and above," Jiang said.
He added that the authorities will grant more assistance and implement preferential policies to support farmers, improve their income and reduce their burdens.
Road construction in the province is also targeted to reach 5,000 km of expressway, which will be opened to traffic by 2012.
At the same time, the province plans to foster 100 large enterprises with annual sales of 10 billion yuan each in areas like iron and steel, petroleum, mining and construction materials.
The province will also produce more desalted sea water for direct use and put more resources into developing solar power, biomass energy, wind power and terrestrial heat energy.
It will also look to further boost the nuclear power project in Haiyang county in the city of Yantai in the coastal area, officials said.
Shandong's goals for the year
GDP: 10 percent growth
Loca government revenue: 15 percent growth
Per unit GDP energy consumption: Down 4.5 percent
SO2 and chemical oxygen demand: Both down 4 percent
Population growth: Within 0.6 percent
Urban unemployment rate: Within 3.8 percent
Average disposable income of urban residents: Up 8 percent
Average disposable income of rural residents: Up 8 percent