The scene was familiar: A line of people filing through an X-ray machine, as uniformed officials stand guard with portable scanners poised to zap anyone who sets off the buzzer.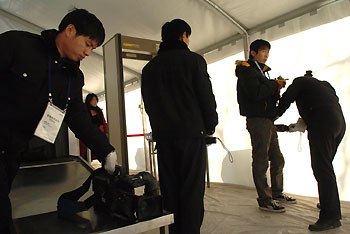 A journalist goes through the security check during the "2008 Good Luck Beijing" cycling event at the Laoshan Velodrome on December 6, 2007. [Xinhua] 
But this was no airport security check. Rather, the setting was Beijing's Workers' Indoor Arena, where, on Friday, local officials gave a demonstration of the new security procedure to be implemented at all large-scale public events staged in the capital from March.
"Visitors to all such events will have to go through a strict security check before being allowed inside the venue," Li Lingyan, deputy director of Beijing's legislative affairs office, said.
The Rule on Security Checks for Large-Scale Public Events in Beijing, which was issued in November, requires all event organizers to provide not only a full emergency plan, but also professional security guards, effective security equipment and a barrier-free security channel to allow for disabled access, Li said.
Explosives, poisonous and radioactive materials are prohibited from venues, as are guns, daggers, drugs or any other items deemed to be a potential safety risk.
Pornographic materials will also be prohibited, Li said.
Police said that banners and flags will be allowed, but their poles must be no longer than 1.2 m. Longer poles are included in the potential safety risk category.
While the new rule does not clearly define "large-scale" events, a similar regulation, which took effect in October, defines them as having more than 1,000 anticipated participants.
Cai Lili, an information officer with the Beijing public security bureau, said the new rule will regulate and unify the checking process for all large events in the city.
"It's also international practice to introduce legislation ahead of the Olympics, so that security checks at the Games have legal backing," Cai said.