GUANGZHOU: Guangdong's economy has overtaken that of Taiwan for the first time following 14.5 percent growth last year, according to figures released at the provincial people's congress Thursday.
Its GDP rose to 3.06 trillion yuan ($422 billion) last year, with a per capita figure of more than $4,000.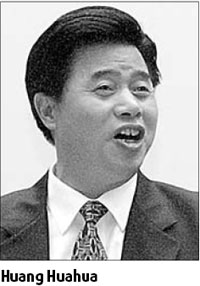 Based on official figures for 2006, Guangdong's GDP for 2007 is expected to account for about 12.5 percent of the national total.
It is also greater than those of Hong Kong, Singapore and Taiwan, which along with the Republic of Korea, are known as Asia's Four Little Dragons because of their historically rapid economic growth.
Huang Huahua, the provincial governor, said the growth target for this year is 9 percent.
The 11th Guangdong Provincial People's Congress started its first session Thursday in Guangzhou. During the course of the meeting, deputies will elect a provincial governor, a chief of the people's congress, and other senior officials.
In a government work report, Huang said Guangdong will continue to improve its investment environment, promote innovation and optimize the industrial structure to meet its GDP goal.
Reducing increasing price pressures is also a key task for the government.
The consumer price index growth for this year is expected to stay below 4 percent, while the urban per capita income is forecast to rise 9 percent, in line with GDP growth, Huang said.
The government also made promises to improve the people's livelihoods.
Huang said the registered unemployment rate in urban areas will be held at under 3.8 percent this year, while the per capita net income in rural areas will grow by 7 percent.
Last year's per capita net income for rural residents was 5,450 yuan, Huang said.
The population of the whole province is in excess of 100 million.
In the next five years, the college enrollment rate will grow to 25.6 percent; medical insurance coverage will be increased to benefit all people in rural and urban areas; and the old-age pension scheme will be enhanced, Huang said.
In other sectors, he said the province will focus on developing digital television broadcasting, reinforcing intellectual property rights protection and improving the province's infrastructure.