TIANJIN: A private equity (PE) fund may be set up in Tianjin to boost the fledgling Chinese shipping industry and transform the harbor city into a regional logistics center, according to a source on Friday.
To begin with the fund will invest in shipping companies with good reputations, the source said, on the sidelines of the China-US Reform and Innovation Summit in Tianjin.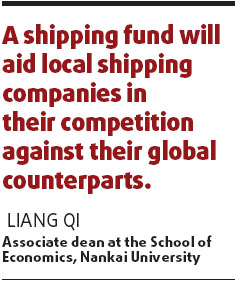 "If approved, the fund will be used to purchase vessels and rent them to approved shipping companies, in line with their requests," the insider said.
"The application to establish a shipping-oriented fund in Tianjin is subject to approval by the State Council and the National Development and Reform Commission. The size of the fund could be as large as 50 billion yuan," the source added.
Liang Qi, associate dean at the School of Economics, Nankai University, said the PE fund would transform Tianjin into a regional shipping and logistics hub.
"China imported a substantial amount of iron ore last year. Most of the shipping business went into the pockets of foreign shippers.
"A shipping fund will aid local shipping companies in their competition against their global counterparts and offer a chance for Tianjin to snatch a bigger share of the shipping and logistics pie," Liang said.
"The fund really is a shot in the arm for Tianjin's efforts to become an international harbor city and a regional logistics center," agreed Chen Zongsheng, deputy secretary-general of Tianjin government.