BEIJING - Beijing is to relocate several thousand households to quadruple the central area of the Financial Street district, where many banks and insurers are headquartered.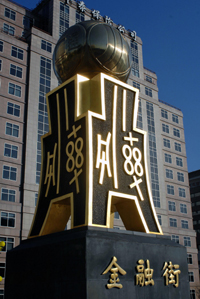 A sculpture in the Financial Street district of Beijing. [File photo]
The district is to grow from the current 1.18 square kilometers to 4.77 sq km. Most of those to be relocated live in the western part of the area, the Beijing News reported on Wednesday.
"The areas involved are established residential communities [which has] increased the difficulty of the relocation project," the newspaper quoted an official with the Financial Street Expansion Office as saying.
The official said there was no timetable for the project yet. Those to be relocated will be offered larger housing if they agree to move beyond the Third Ring Road, one of the major loop highways in the heartland of Beijing.
The Beijing municipal government is also drawing up policies to encourage non-financial institutions to move out of the area, making Financial Street the heart of Beijing's financial industry.
A gigantic underground road network is planned under the central area of the district, which will mirror the above-ground system, even having traffic lights and road signs.
The 2.4-km network will join up with major streets such as the western part of the Second Ring Road and Taipingqiao Street. It will also join the parking lots of office buildings.