Six time-honored Chinese brands in Beijing have finalized their exclusive English names amid their effort to facilitate visits by foreign customers and expand business overseas. The six companies include Quanjude Peking Roast Duck, Tongrentang Chinese Medicine, Wuyutai Tea Shop as well as Ruifuxiang Silk, Rongbaozhai Art Gallery and Wangzhihe Gourmet Food.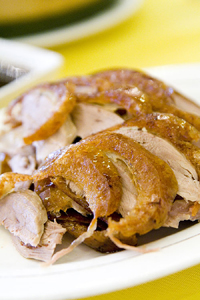 Peking Roast Duck of Quanjude [File photo] 
All these brands have been in business for over a century. Tongrentang Chinese Medicine and Wangzhihe Gourmet Food, especially famous for its fermented bean curd products, were both founded in 1669, the oldest ones.
The translations have been unanimously recognized by the brand owners, who plan to make tablets with the English names and will hang up the boards on their shops in March, reported The Beijing News.
The company is working on the registration of the English names and will promote them at home and abroad soon, said Shi Bingfeng, vice general manager of Quanjude.
A volunteer activity was launched last August to solicit English names for 50 old and well-known trademarks located in China's capital city.
More than 250 thousand replies were submitted worldwide, with overseas participants accounting for around 20 percent.
The event organizer reminded people the second phase of the collection of the English names has commenced to give corresponding names to the remaining brands. People can log on to the website at www.transn.com to take part in the activity or check out others' replies.
The English Names have already been fixed:
Quanjude Peking Roast Duck-Since 1864
Wuyutai Tea Shop-Since 1887
Tongrentang Chinese Medicine-Since 1669
Ruifuxiang Silk-Since 1862
Rongbaozhai Art Gallery-Since 1672
Wangzhihe Gourmet Food- Since 1669