BEIJING - Eleven subway or above-ground rail lines will be under construction this year in Beijing and two will be completed before the Olympic Games in August, according to officials at the municipal Development and Reform Commission.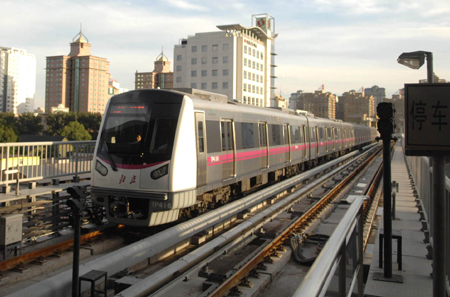 A train of Beijing subway line 5. [File photo] 
These projects will add 270 kilometers to the municipal rail system's track length, nearly doubling its current size.
The two, which are scheduled to open before July, are an elevated line connecting the airport with the transport hub of Dongzhimen in Beijing and the first phase of the No. 10 subway. When these facilities open, the track length of Beijing's metro system will be about 200 km, said Wang Haiping, deputy director of the commission.
"With the completion of the two lines, Beijing's subways can meet the traffic demand during the Olympics," Wang said.
Work will start this year on two new subways. These are the No. 7 line, which terminates at Beijing's main railway station, and the 42 km No. 14 line, which will be the longest single subway line in Beijing with terminals at Lugou Bridge in the southwest and Wangjing in the northeast.
Seven other subways are also under construction this year.
"The running distance of the rail network will amount to 561 kilometers by 2015, which is expected to make Beijing's subways the largest in the world, surpassing New York City," said Xu Xiaoyuan, head of the infrastructure department of the commission.
Starting from this year, the municipal government will appropriate 10 billion yuan (US$ 1.37 billion) annually as subway investment.
Beijing also plans to build low-cost or free parking facilities near the fifth ring road (one of several highways encircling the city) to encourage those living in satellite towns to use public transportation for the final leg of their trip into the city proper, the commission said.