BEIJING - Nobel Laureate Chen Ning Yang and his wife Weng Fan stepped into spotlight again as the 85-year-old physicist's new book has become available on the bookshelf.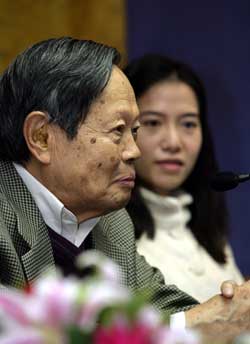 A photo taken on January 6, 2008 shows Chen Ning Yang (L) and his wife Weng Fan. [Xinhua] 
Yang's newly released book, entitled Shu Guang, or Dawn Light, contains more than 50 selected essays covering aspects of his academic life as well as personal history, including his much-talked-about marriage. About half of the articles had not been printed before.
"My schoolmates and I had gone through the seemingly endless night of our Chinese nation," says Yang, referring to the Japanese invasion when explaining the naming of the book. "Fortunately, I was able to greet the dawn light."
The book, beginning with Yang's greeting speech to Deng Xiaoping when Deng visited the United States in 1979 and closing with an interview with the Singaporean newspaper Lianhe Zaobao last November. The period coincides with China's 30 years of reform and opening up.
Yang began his college life when the war against Japanese invasion began in 1937. He obtained his Ph.D.degree at University of Chicago in 1948, and became the first Chinese to receive the Nobel Prize for Physics in 1957 together with Dr T.D.Lee.
Yang has been teaching as a professor at the prestigious Qinghua University since 1998. He drew a lot of public attention by marrying a 28-year-old girl at the age of 82 in 2004.
Yang acknowledges that three years of his second marriage has led him to realize the generation gap between him and his wife, because "people with different age and experience take a different view on things".
"This made my wife and I come up with the idea to publish an essay collection on my friends' and my understanding of the world, " says Yang.
As the translator and editor of the book, Weng reveals in the book's afterward that the reading of all the essays has enabled her to gain a deeper understanding of his husband.
"We've learned to appreciate each other from these years' life together," she says.
In one essay about the couple's marriage, Yang reckons that after 30 or 40 years, people would regard his marriage as romance.
"At the age of 85, I do not expect to see rapidly developing China in its peak time," Yang says. "But my wife has promised to see it for me."