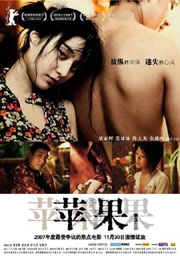 Poster of "Lost in Beijing." A Chinese company has been banned from making movies for two years. [Xinhua] 
BEIJING -- A Chinese company has been banned from making movies for two years after the country's film watchdog ordered cinemas to stop screening its "Lost in Beijing" release due to pornographic scenes used in its advertisement.
The State Administration of Radio, Film and Television (SARFT) ordered Thursday cinemas to stop the film's public screening and distribution. It also revoked the film's public screening license.
Beijing Laurel Films Company, which co-produced the racy migrant tale with Beijing Poly-bona Film Publishing Co Ltd and Beijing Zhonghong Real Estate Development Company, was banned from making films on the Chinese mainland for two years.
"Lost in Beijing" debuted on the mainland on November 30. It received its license for public screenings after more than 10 minutes of pornographic scenes were deleted, such as when the heroine was raped by her boss.
The film depicted the struggles of migrant workers in Beijing. It starred Chinese mainland actors Fan Bingbing as a foot-washing girl and Tong Dawei as her cleaner husband.
Related readings:


 'Lost In Beijing' at Berlin film festival


 China Telecom to tighten control against online porn


 Drawing the line between art and porn


 Online porn ring serving overseas clients cracked


 China targets campus porn sites
A SARFT official said the film's producers had used the cut scenes from the original copy in the advertisement and had spread the deleted scenes through the Internet.
"These promotion activities have violated China's film administration regulation and advertisement law," he said.
SARFT ordered the producers to turn in their original copies in 15 days.
Fang Li, a producer with Laurel Films, said all the banned scenes spread on the Internet were from pirated copies. He stressed the company would cooperate with SARFT to trace the pirated copies.