URUMQI -- A blaze was put off Thursday evening after raging through a 12-floor market and office building for 22 hours in the northwestern city of Urumqi, leaving three firemen dead and another injured.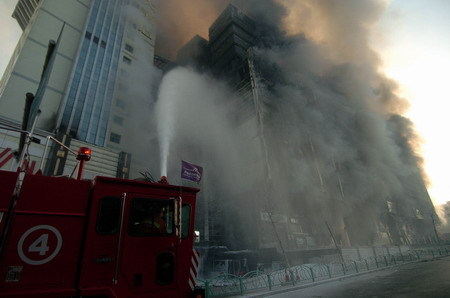 Firefighters hose water to a 12-storey department store engulfed in flames in Urumqi, Northwest China's Xinjiang Uygur Autonomous Region, January 3, 2008. [Xinhua]
Dense smoke was still hovering around part of the Dehui International Plaza and an adjacent hotel, but no flames were seen in the two constructions as of 6:30 p.m. Thursday in the downtown area of the capital city of Xinjiang Uygur Autonomous Region.
Rescuers were still not able to get into the plaza, which was completely burnt down, due to the extreme heat.
There have been no reports of civilian injuries or deaths.
Preventive measures have been taken in case the steel and iron framework of the plaza would collapse in a chilly night when the temperature fell to a low of minus 20 degrees Celsius, fire fighters said.
The blaze erupted in a mop stall on the first floor of the market building at 8:20 p.m. Wednesday, a security guard said. He reported the fire and firemen arrived in 15 minutes.
The fire then spread to the 20-storey hotel, forcing the evacuation of all guests.
The hotel was not badly damaged as fire fighters had put off the blaze before it spread to higher rooms from the seventh floor.
Some 100 firemen were checking inside the hotel to confirm all minor blazes were extinguished.
The market had already been closed to customers at 8:00 p.m., so few people were in the building when the fire broke out, said another security guard.
Dehui Plaza housed more than 2,000 vendors selling clothes, cosmetics, toys and other items from the basement up to the fourth floor. The fifth to 12th floors were used as offices.
As many as 435 fire fighters and 84 fire engines managed to put the rare blaze under control Thursday afternoon, however, it claimed the lives of Zhu Xiaolei, Zhang Yu and Gao Feng, who were searching for anyone who might have been trapped in the fire.
The injured fireman was hospitalized in stable condition, according to a spokesman for the Urumqi city government.
A vendor surnamed Tan said she rushed with her husband to the building in hopes of rescuing their goods after hearing about the fire. But they had to stand 100 meters away and helplessly watch as the blaze engulfed the market.
She said she had lost merchandise worth more than 200,000 yuan (about $27,400).
Investigation into the cause of the accident is underway and the economic loss is yet to be calculated.