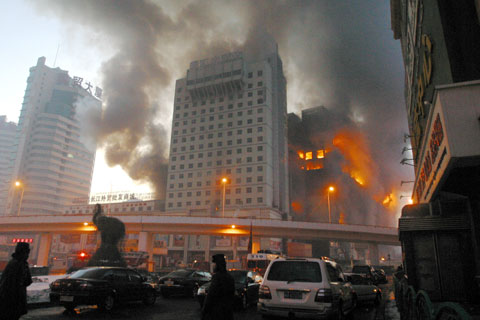 Fire at a 12-story building rages on as attempts to bring it under coontrol failed in Urumqi, Xinjiang Uygur Autonomous Region January 3, 2008. An adjacent hotel is now under threat. [Xinhua] 
URUMQI -- A fireman missing in a building fire that is raging in the northwestern Chinese city of Urumqi has been found dead, bringing the death toll to three fire fighters, a municipal government spokesman said on Thursday. Another firefighter was reported injured.
There were no reports of civilian casualties so far and the fire had been brought under control by Thursday afternoon, the spokesman added.
The fire in a 12-story building in the downtown area of the Xinjiang   Uygur Autonomous Region capital started on Wednesday evening and had raged until Thursday afternoon, spreading to an adjacent hotel.
Fire fighters had stopped containing the initial fire in the Dehui International Plaza since the building might collapse. It continued to burn.
They had instead turned their attention to the 20-story hotel, which had been cleared of occupants. The fire in the building's first seven floors had been extinguished.
The fire started from a mop stall on the first floor of the market building, a spokesman of the Xinjiang regional brigade of fire control cited an eye witness as saying.
The lower floors of the market building where vendors stalls were located had been totally burnt out, while the 10th to 12th floors were still ablaze.
The Dehui International Plaza contained the booths of more than 2,000 vendors selling clothes, cosmetics, toys and various kinds of commodities from the basement up to its fourth floor. The fifth to 12th floors were used as offices.
The market was cleared of customers at 8:00 p.m. and not many people were left in the building when the fire broke out at 8:20 p.m. on Wednesday, said a security guard.
A woman vendor surnamed Tan said she rushed with her husband to the building in an attempt to transfer their goods after hearing about the fire. But they had to stand 100 meters away and helplessly watch as the blaze engulfed the market.
She said her goods lost in the fire were worth more than 200,000 yuan (about 27,400 U.S. dollars).