Tokyo - Japanese Prime Minister Yasuo Fukuda said on Thursday that the relationship between Japan and China will not relapse into the difficulties it used to suffer.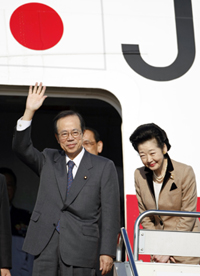 Yasuo Fukuda (L) waves as he boards his special flight to make his first visit to China in Tokyo December 27, 2007. [Agencies] 
Fukuda made the remarks when meeting with 12 representatives of Japan-based Chinese scholars at his official residence right before leaving for his four-day visit to China.
"I am looking forward to meeting with Chinese leaders and expect the visit to be successful," Fukuda said.
The premier listened carefully and took notes when the group of Chinese scholars, all of whom are members of the Chinese Scholars Association in Japan, were giving their advice on subjects such as expansion of governmental and civil exchanges, acceleration of free trade region process, and cooperation on educational and cultural affairs.
Fukuda accepted a paper of suggestions by the scholars on further development of the Japan-China mutually beneficial relationship based on common political interests.
This is the first meeting between a Japanese premier and the Chinese Scholars Association, which was established in January 2003 in Tokyo.