Guangxi Zhuang Autonomous Region authorities have vowed to solve a water problem plaguing more than 1,000 people living in three villages.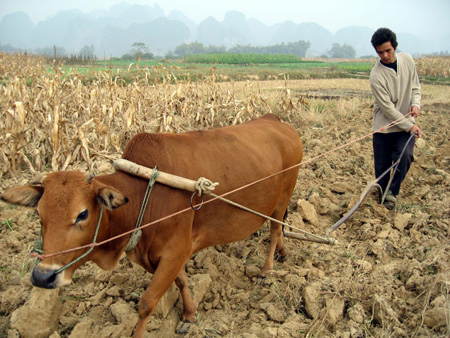 A farmer ploughs the cropland with his cattle in Shanglin County, Southwest China's Guangxi Zhuang Autonomous Region, December 16, 2007. Drought has affected most areas of the autonomous region since this fall. [Xinhua]
The problem has existed since July 2005 when the local water station cut off supply to the villages because of insufficient funds to repair the old, leaking pipeline.
"As a result, we have had to depend on rain water. I really wish we can be supplied with clean drinking water," a farmer in Xincheng village, Zhou Zuyuan, said.
Visitors to Zhou's home will notice his kitchen tap has corroded.
"Because our village is located in a mountain, it is impossible for us to get underground water. We can collect rain water in the summer, but not in autumn and winter," Zhou said
During the dry season the villagers have to trek many kilometers to get water from a well.
Zhou's stores water in a tank that measures 3 m deep and 3 m wide. It can store up to 9 cu m of water. It meet his family's daily demands for two months if it rains, otherwise it means a trek to the well.
According to Pan Weigang, a village official, more than 1,000 farmers have been hit by the problem in the villages of Xincheng, Jinyu and Jinpo.
"Villagers know rain water is harmful to health after it is stored for a long time. But they have no other choice," Zhou said.
"For example, a basin of water is used first for washing vegetables, then hands and face, after which it is given to the animals.
"Some use the water to take a bath first, then wash their clothes, and water the vegetable patches," he said.
The water shortage also means the farmers cannot raise pigs which require a lot of water. Pig breeding is a major income for them.
"Without pigs, there is no fertilizer for the sugar cane fields. Consequently, the output of sugar cane, another major source of income, has dropped. Some villagers have left to take up other jobs," Zhou said.
For some young people, the water shortage has led to other drawbacks - like finding a wife.
A farmer in Jinyu village surnamed He has a son of marriageable age. Last year, somebody introduced a young woman to his son. But the woman left without saying anything after she found they used rain water.
Another farmer in Xincheng village surnamed Zhou is wealthy by planting sugar cane. He married a woman from outside his village. But the woman left him because of the water shortage.
According to Huang Xiugang, an official in Xincheng village, before the water supply station was shut down, the villagers had to pay only 2 yuan (27 US cents) for 1 ton of water. After 2004, they had to pay 3 yuan or even 9 yuan for a ton.
As the cost of water rose, many villagers refused to pay, which made it impossible for the station to repair the pipeline.
Most of the villagers earn less than 10,000 yuan a year. They are relying on the local government to solve the water problem.