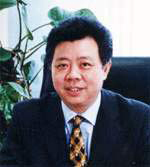 Wang Chengming (file)
A Chinese court has given death penalty with a reprieve to Wang Chengming, former board chairman of Shanghai Electric Group Co., Ltd. and former president of Shanghai SVA (Group) Co., Ltd., for participation in collective embezzlement and taking bribes, a court statement said on Thursday.
When Wang was president of the Shanghai SVA (Group) Co., Ltd., he and two other senior business executives pocketed more than 300 million yuan (around 40 million US dollars) in a land transfer business in Shanghai, according to the statement from the Changchun Intermediate People's Court in Jilin province.
Yan Jinbao and Lu Tianming, the two accomplices, were sentenced to life in prison and 15 years behind the bars respectively, according to the website of the Caijing Magazine.