Tumor removed from monkey
(China Daily)
Updated: 2007-12-21 10:34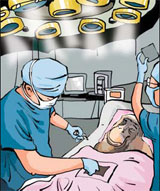 A snub-nosed monkey at a zoo in Chengdu, Sichuan Province, is recovering from an operation to remove a tumor.
The seven-year-old monkey named Long Long started running a temperature last week and it would not subside despite treatment.
Further examination showed it had a stomach tumor. Vets said the tumor weighed about 0.5 kg.
(Chengdu Daily)