YANGJIANG, Guangdong Province -- A Chinese salvage team is getting ready to recover the wreckage of an ancient merchant ship loaded with exquisite porcelain from the South China sea on Saturday.
"If the weather is cooperative, the boat, which has been in the sea for about 800 years, will see the light of day again two days later," said Wu Jiancheng, head of the excavation project.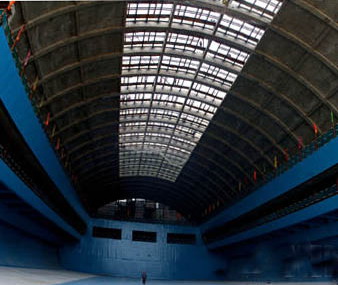 Photo taken on Dec. 20 shows the interior of "Crystal Palace," a glass pool that will be used to put the ancient merchant ship Nanhai No. 1 after its wreckage is recovered from the South China sea on Saturday, Dec. 22. [Xinhua]
According to Wu, the excavation is scheduled to begin at 10 am and the ship is expected to be hoisted out of water in two hours.
The ship dates back to the early Southern Song Dynasty (1127-1279) and is 30.4 meters long and 9.8 meters wide. It was the first ancient vessel discovered on the "Marine Silk Road" of the South China Sea. It was named Nanhai No. 1, meaning "South China Sea No.1."
Wu said, Nanhai No. 1 left port in southern China to trade with foreign countries and sank probably due to stormy waves. It was quickly buried by silt. It was estimated there were probably 60,000 to 80,000 relics on board.
To better protect the precious relics and gain valuable information, archaeologists launched an unprecedented operation in early May to raise the wreck and the surrounding silt in a huge steel basket.
According to the plan, a crane would first put the basket onto a barge. Tow boats would then pull the barge to a temporary port on Sunday where the basket would be sent to a specially-built museum.
In order to avoid damage to the relics caused by a change of environment and pressure, the ancient ship would be put in a huge glass pool. There, the water temperature, pressure and other environmental conditions would be the same as the sea bed where the ship lay.