Manuscripts called The Fall of Zhenjiang were donated Saturday to Zhenjiang city's museum to commemorate the 70th anniversary of the fall of the city on December 8, 1937.
The diary recorded what Zhang Yibo saw exactly 70 years ago when the Japanese invaded the town which used to be the capital of Jiangsu Province.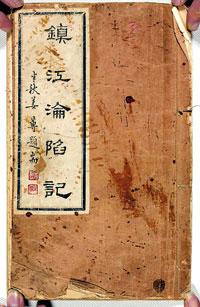 The photo of the diary called The Fall of Zhenjiang is released by an aution company in Beijing on December 1, 2007. [Baidu.com]
The book was up for auction on December 1 in Beijing and was sold for 1.07 million yuan. Tong Caibao, a local entrepreneur, bought the diary and brought it back to Zhenjiang museum.
"We very much appreciate what Mr Tong did for Zhenjiang," said Yang Zhenghong, director of the city's museum at a ceremony marking the event.
He also said the museum would set up special section to show the diary to the public free of charge for one month. The local library plans to publish this book around the new year.
The diary documents the atrocities committed by the Japanese invaders for two months from December 8, 1937. The book comprises nine chapters and 124,000 characters.
Zhang published 4,000 copies himself in order to inspire his compatriots to work together in their fight against the Japanese after he was forced to flee his war-struck hometown. But most of the copies have disappeared after 70 years.
According to the Yangzhou Times, there are only two copies left. The auctioned one was found at the Yangzhou Ancient Bookstore when the clerks cleaned up the store in early 1998. Then the diary was auctioned off for first time and a media company from Hong Kong had a winning bid of 126,500 yuan ($15,812) in 1998.
The owner recently put the diary back on the auction block and set the opening price at the same one that the company bought it for. That's because they hope a public library or museum will acquire the historical document.
Zhang handwrote the diary in 1946, a year after the anti-Japanese war was over. It is an example of a national first-level cultural relic according to the "the Standards for Grading Ancient Books" by the Standing Committee of the National People's Congress in 2002. This means this diary cannot be bought by foreigners or taken outside the country.