In what central government officials called a "turning point" in environmental protection, energy use per unit of gross domestic product (GDP) dropped 3 percent in the first nine months, compared to 2.78 percent in the first half.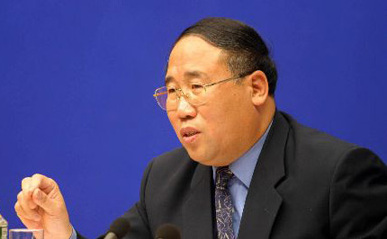 Xie Zhenhua, vice-minister of the National Development and Reform Commission, speaks during a press conference in this 2003 file photo. [cnsphoto]
Xie Zhenhua, vice-minister of the National Development and Reform Commission, said Thursday that the latest figure shows that "the efforts we have made are starting to take effect, although there are demanding tasks ahead".
When revealing the figures to international environmental experts on Wednesday, Vice-Premier Zeng Peiyan also said that during the first nine months, there was a 1.81 percent fall in sulfur dioxide emissions, and a 0.28 percent fall in chemical oxygen demand (COD), a key measure of water pollution.
It was the first time in recent years that the country witnessed the "double fall".
Most heavy industries, from steelmakers to construction material producers, reduced their energy bills.
Zhu Hongren, an NDRC official, told China Daily that larger enterprises had been leading the energy conservation campaign.
In first half, he said, energy use per unit of industrial output for companies with annual sales over 5 million yuan ($670,000) dropped by up to 3.87 percent.
At the same time, the official said, large batches of small iron and steel works, coking mills, paper mills, and chemical and dying plants have either been shut down or are being closed.
The government plans to lower energy use per unit of GDP by 20 percent during the 2006-10 period, or 4 percent each year. But last year, it could only manage to lower the index by 1.33 percent.
Xie vowed that Beijing will take more economic, legal and administrative measures to make sure that the country meets the target.
According to the Xinhua News Agency, in terms of energy use per unit of industrial output, coal mining saw an annualized fall of 7.76 percent; steel industry, 6.49 percent; construction materials makers, 7.84 percent; chemical industry, 5.17 percent; and power companies 2.57 percent.
But the oil and petrochemical industry saw a rise of 1.27 percent; and nonferrous metal producers, 1.58 percent.