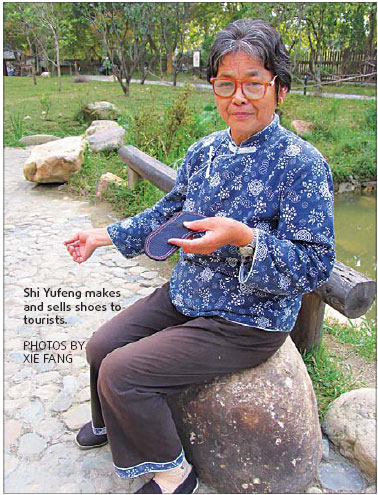 Shi Yufeng was disappointed when she arrived in the city of Jinggang Mountains half a century ago.
The then 18-year-old girl, along with 200 other spirited graduates, had left Shanghai to help with the development effort in the country's mountainous areas in response to a call from the government.
Compared with the flourishing city where Shi grew up, Jinggang Mountains seemed unbelievably desolate and uninhabited, and there was no electricity.
She felt like a broken vase that could not stand on its own. She was lost and could not help weeping.
One night she and her comrades held an emergency meeting to steady their nerves.
"We were told that there would soon be a power plant and papermaking factory in Jinggang Mountains. But where were they? The leader said they would come from our hands," Shi said with a smile.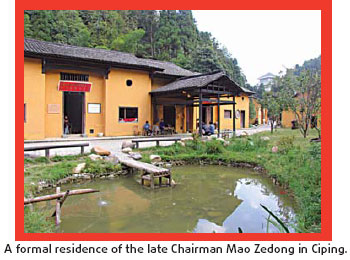 At the time, Shi and her colleagues were trailblazers in the region. And Shi has called Jinggang Mountains home ever since.
According to the Jinggang Mountains city government, a group of nearly 1,000 young people with high levels of education and transferred officials, most of them from Nanchang and Shanghai, were sent to the region between 1957 and 1958 to work on development programs.
After spending a year helping to build a papermaking factory, Shi in 1959 found work at a hydraulic power plant, where she did various jobs, from machinist to warehouse custodian.
She makes few references to the hardships she endured at work because "everyone at that time was experiencing them, so I didn't see the point complaining".
Shi eventually married a Jiangxi native, making Jianggang Mountains her emotional home.
However, after giving birth to two children, Shi found herself missing Shanghai, and so she asked for leave to visit her hometown.
To Shi's disappointment, her old house had been demolished to make room for newer buildings. And the city seemed strange because of the dramatic urbanization that had taken place. Jinggang Mountains never felt more like home.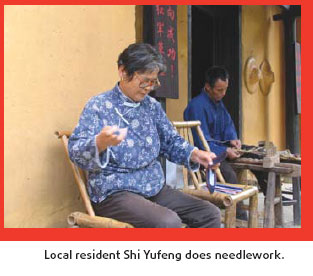 "My hometown is wherever I make my home," she said.
Shi remained at the power plant until her retirement in 1991, and her days were simple and quiet until the "Red Travel" program came to town.
Built around locations of revolutionary interest, the "Red Travel" program has transformed the mountainous city into an attraction for domestic tourists interested in the country's revolutionary history.
Some 2.5 million tourists visited the region last year, and the figure is expected to surpass 3 million this year.
The arrival of the tourism industry has not only improved local transportation, but also generated abundant business opportunities.
More than 130 guesthouses, including five four-star hotels, have sprung up in the city to entertain tourists from all over the country. Local people have benefited from a flood of new job possibilities.
And Shi knew she could not let a good opportunity pass.
In 1992, she rejoined the labor force as a cleaner and chef, working at a series of hotels. She once made lunch for 300 guests on a wood-fired stove, an accomplishment of which she still feels very proud.
Earlier this year, the Ciping Old Residence of Mao Zedong, who lived and worked in the city from October 1927 until January 1929, put out a call for craftspeople with traditional skills such as iron forging and straw sandal making in order to recreate scenes from the period.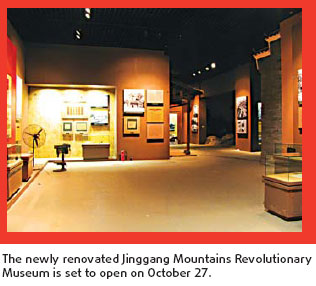 The 68-year-old Shi answered the call and was more than happy to put her sewing skills to good use.
Every day, she sits in the residence's courtyard dressed in a traditional blue dress and bifocal glasses, patching cotton-soled shoes.
Despite her age, her stitches are always close and even.
"There are as many stitches in a sole as there are stars in the sky," she said.
Normally it takes her at least two days to complete a pair of shoes, which she sells for 20 yuan ($2.50).
Her customers are mostly middle-aged male tourists, and on average she sells about eight pairs of sandals a month, Shi said.
"I never expect to make money from it. Actually it is just for fun," she said.
She said she makes about 1,500 yuan (US$200) a month, seven times the pension she got in 1991.
She even purchased a 122-sq-m apartment in the heart of the city.
"I cannot wait to move in," she said with a smile that smoothed out her creased face.
When she's not sewing shoes, Shi enjoys interacting with tourists by taking photos with them and telling them about the history of Jinggang Mountains in her strong Shanghainese accent.
"I consider myself a local rather than a migrant, as I have spent almost my whole life here.
"I have every bit of confidence that I am the most qualified witness to how the city has changed over the past half century," she said.
Shi does not have many big projects planned for the future except for a trip to Beijing.
"Beijing will hold the Olympic Games next year. Lots of tourists have mentioned it to me. How excited I will be if I can visit the city next August. I will take my grand-daughter with me," she said.
(China Daily 10/23/2007 page8)