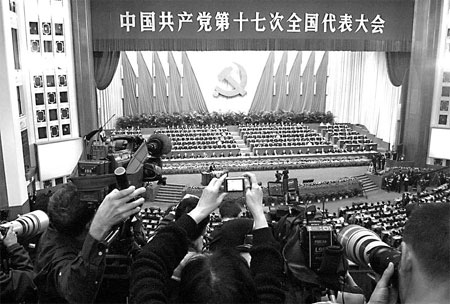 Photographers capture the view of the opening of the 17th National Congress of the CPC from the press box yesterday.Xu Jingxing
The central government has prepared a new list of leading State-owned enterprises (SOEs) to go public in Hong Kong, while allowing some others that are already listed there to return to the mainland's A-share market, the caretaker of State assets said.
Li Rongrong, head of the State-owned Assets Supervision and Administration Commission (SASAC), said the listing arrangement is part of the authorities' strategy to reform its SOEs, which have shaken off their "profit-losing image" in recent years.
Without going into the details of the list, Li said the authorities "remain determined" to reform the country's SOEs and encourage competitive ones to tap capital markets both at home and overseas.
"As our SOEs have become increasingly competitive and well managed, we should balance the interests of investors both at home and abroad," Li told a panel discussion in which delegates representing SOEs at the 17th CPC National Congress participated.
"When the time is ripe, more mergers and acquisitions will take place between Chinese SOEs and overseas enterprises."
Li said China had been slow to participate in mergers and acquisitions, which he described as a basic business practice popular across the world. But the country is poised to list more enterprises overseas to contribute to the development of the world economy.
"We have laid a solid foundation to do so, and that's why we have attracted the attention of investors worldwide," Li said, citing the profit-making performance of SOEs under his supervision.
They made a profit of 768 billion yuan ($99 billion) in 2006, which was up 18 percent on the preceding year and 155.5 percent on 2003, when Li's commission was started.
General Secretary Hu Jintao yesterday endorsed the performance as "a big achievement".
Li Jiaxiang, president of Air China Group, attributed it to "strategic thinking to regroup SOEs" under the leadership of the central government.
"Without vision, we cannot become competitive," Li Jiaxiang said.
He said the global brand rank of his company among worldwide airlines had increased to 16th this year from 32nd in 2002.
But he also rejected the idea that his company holds a monopoly in China, saying there are 96 overseas and 48 domestic airlines flying in China.
The "monopoly of my company doesn't exist", he said.
Li Rongrong said his commission planned to trim the number of enterprises under his supervision from 157 to 80-100 by 2010.
Meanwhile, the government is to help as many as 50 SOEs become globally competitive, particularly companies engaged in national defense, petrochemicals, power transmission, telecommunications, coal, civil aviation and shipping with their own intellectual property rights and brands.
(China Daily 10/16/2007 page7)