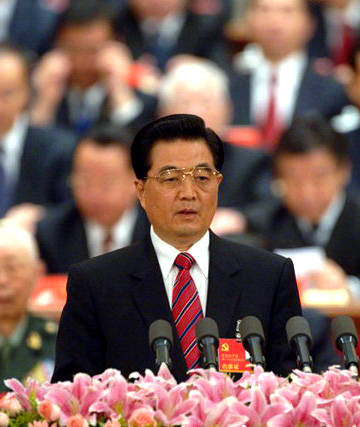 Chinese President Hu Jintao, also general secretary of the Communist Party of China (CPC), gives a keynote speech at the opening of the 17th National Congress of the CPC in Beijing to map out China's all-round development for the coming five years, October 15, 2007. [people.com.cn]
China will continue to power the engine of economic growth by quadrupling the per capita gross domestic production (GDP) of 2000 by the year 2020. And the rapid growth will be under the condition of reduced consumption of resources and greater efforts in environmental protection.
China will also manage to narrow the yawning income gap, expand democracy for its 1.3 billion people, modernize its 2.3 million armed forces, enhance the soft power of its culture, and work to sign a cross-Straits peace agreement on the basis of one-China principle.
Hu Jintao, general secretary of the 16th Central Committee of the Communist Party of China (CPC), outlined the country's ambitious goals for economic, political and social developments, as well as the nation's position on the world stage, at the 17th CPC National Congress on Monday.
Moderately Prosperous
While mentioning the phrase "reform and opening up" more than 30 times in his two-and-half-hour keynote speech, Hu said that China will quadruple the per capita value of GDP in the coming 13 years and complete the building of "a moderately prosperous society in all respects."
The goal is much higher than the target set by the CPC five years ago at the 16th National Congress which was to quadruple the GDP value, without the mention of per capita, by 2020, observers noted.
Moreover, the new goal must be achieved "through optimizing the economic structure and improving economic returns while reducing consumption of resources and protecting the environment," Hu said in his report.
China's GDP has expanded by an annual average of over 10 percent in the past five years, but it is realized at an excessively high cost of resources and the environment, he acknowledged.
Hu drew an enticing blueprint for the moderately prosperous society as a large developing socialist country with an ancient civilization, which has "basically accomplished industrialization, with its overall national strength significantly increased and domestic market ranking as one of the largest in the world." It will also feature markedly improved livelihood for the people, more extensive democratic rights, higher ethical standards, greater social vitality coupled with stability and unity.
The principle of "putting people first" has been a long-time guideline of the CPC, resulting in the abolishment of ancient agricultural tax and the implementation of free education in poor rural areas in the past five years.
In this regard, Hu pledged to deepen the reform of the income distribution system for reversing the growing income disparity in the years to come.
A reasonable and orderly pattern of income distribution will be basically in place, he said, "with middle-income people making up the majority" and absolute poverty basically eliminated.
Detailed plans were also included in Hu's report on improving the people's livelihood, to ensure that all the people enjoy their rights to education, employment, medical and old-age care, and housing.
Expanding Democracy
The Chinese characters for democracy (Minzhu) turned up to be one of the most extensively used political concept in Hu's report, showing up at least 60 times.
China will "expand people's democracy and ensure that they are masters of the country," Hu told more than 2,200 delegates attending the congress, telecast live by national TV and radio stations.
China need to improve institutions for democracy, diversify its forms and expand its channels, and carry out democratic election, decision-making and administration and oversight in accordance with the law to guarantee the people's rights to be informed, to participate, to be heard and to oversee, Hu said.
Hu also said that the CPC will "expand intra-Party democracy to develop people's democracy" by increasing transparency in Party affairs and "opposing and preventing arbitrary decision-making by an individual or a minority of people."
With the recent promotion of two non-Communists -- Wan Gang and Chen Zhu -- to cabinet ministers, Hu promised that the Party will "select and recommend a greater number of outstanding non-CPC persons for leading positions."
Hu vowed to continue to intensify anti-graft fight "to see to it that all cases involving violation of law and discipline are thoroughly investigated and dealt with, and all corruptionists are severely punished according to law without fail."
Hundreds of thousands of corrupt officials, including former Shanghai Party chief Chen Liangyu, were nabbed in the past five years. In 2006 alone, more than 90,000 members of the Party were disciplined, statistics show.
The ancient Chinese philosophy of harmony has been enshrined in China's domestic policies, and China is also introducing it to the world by calling for building a harmonious world.
Hu also said China is to modernize its armed forces but stressed that "China follows a national defense policy that is defensive in nature, and it does not engage in arms race or pose a military threat to any other country."
"China opposes all forms of hegemonism and power politics and will never seek hegemony or engage in expansion," he said.
Hu condemned the forces of "Taiwan independence" for stepping up their secessionist activities and seriously jeopardizing the peaceful development of cross-Straits relations. He made a "solemn appeal" that "on the basis of the one-China principle, let us discuss a formal end to the state of hostility between the two sides, reach a peace agreement, construct a framework for peaceful development of cross-Straits relations, and thus usher in a new phase of peaceful development."
Hu also summed up the achievements China has made in the past five years and in the past three decades since the reform and opening up policy was initiated, while paying passionate tribute to the three generations of CPC leadership headed by Mao Zedong, Deng Xiaoping and Jiang Zemin for their glorious legacies in building New China.