Chen Meili was born in 1970 in Taigu of North China's Shanxi Province. She has tended the looms at the Shanxi Jinhua Textile Co. Ltd. for 22 years since she entered the company at just 16 years old.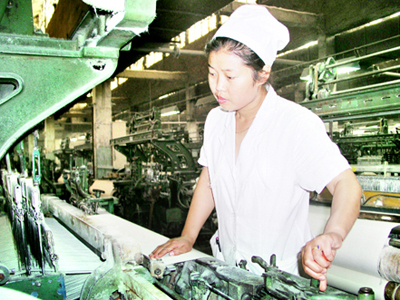 The company has a large plant with 864 textile machines and noise levels can exceed 90 decibels. Each loom tender is responsible for 18 machines in an eight hour shift.
Knotting is one of the essential basic skills for a textile worker. During her apprenticeship Chen not only learn from her supervisor, but would also tie 1,000 practice knots after work.
She improved the traditional way of knotting by creating her own method which can handle broken yarn within 12 seconds. This is far quicker than regular industry standards. In 1998 she entered a provincial level textile industry competition. She took first prize in knotting with 27 knots in one minute, a record that still hasn't been broken to this day.
Besides knotting, Chen has used her hands-on experience to develop a set of new techniques. These serve to substantially reduce the incidence of sub-standard goods, enhance efficiency and improve quality standards generally.
Her apprentices have gone on to become the backbone of production in the company. Her team has been elected as the "model team" every year and she has been appointed as the general skills guide for the whole weaving plant.
Cheng met her Mr. Right in the plant too for she fell in love with Zhang Baowen. He was one of her apprentice and they were married in 1993.
Cheng joined the Communist Party of China (CPC) in 1999. On being elected as a delegate to the 17th National Congress, she started work on collecting textile workers' opinions on the reform of textile companies so that the ordinary workers' voice can be heard.