China's rural economy has entered a new stage after renewed efforts to accelerate the development of rural areas, a National Bureau of Statistics (NBS) report said.
As the Communist Party of China moves to build a new countryside, a mechanism aimed at long-term social and economic development in rural areas has been put in place, said the report, published on the bureau's website.
The bureau said that since the Party convened the 16th National Congress in 2002, the country has strengthened the role of agriculture in the national economy by raising farming capacity.
China's grain output has grown for three consecutive years from 2004 to 2006, the first time since 1985. Grain output increased by a total of 66.75 million tons during that period. In 2006, unit grain output reached 314 kg, a historical high.
Output of major economic crops also increased. In 2006, for example, cotton output increased by 37.2 percent compared with 2002.
Farmers have become a major beneficiary of the fast-growing rural economy, the report said.
In 2006, farmers' per capita net income was 3,587 yuan, 1,111 yuan more than in 2002, an increase of 44 percent. Year-on-year growth in the per capita net income of rural residents rose from 4.8 percent in 2002 to 7.4 percent in 2006, the report said.
As the rural economy develops, farmers' income will evolve, the report said.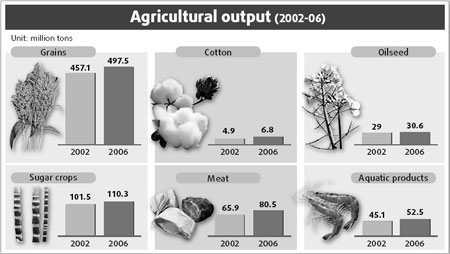 Their income will increasingly come from salary, or income from non-farming work, instead of farming.
Income from non-farming work accounted for 38.3 percent of their overall income in 2006, 4.4 percentage points more than in 2002, the report said.
The rising income level has provided an impetus for farmers to spend more to improve living standards, the report said.
Their per capita living expenses increased to 2,829 yuan in 2006 from 1,834 yuan in 2002, up 54.2 percent.
The rural Engel coefficient, or proportion of expenditure on food to total consumption, an international measurement of people's living standards, was 43 percent in 2006, 3.2 percentage points lower than 2002. It indicated improved structure of rural consumption, the report said.
The entertainment, health and transportation expenditures of rural residents increased rapidly.
Electrical appliances and IT products are becoming more popular in rural areas, the report said, which point to farmers' strengthened purchasing power.
The number of poverty-stricken people is on the decline thanks to the rapid increase in farmers' income, the report said.
In 2006, there were 21.48 million poor people with an annual income of less than 693 yuan, 6.72 million less than 2002.
The authorities have attached more importance on the quality of agricultural products during the past four years, the NBS said.
Rural areas' industrial structure has become more rational. The proportion of agriculture in the rural economy in terms of output dropped by 0.9 percentage points to 29.6 percent. That of industry rose by 1.9 percentage points to 54.8 percent. While the proportion of agriculture is on the decline, forestry and livestock breeding is on the rise.
The quality of agricultural products has improved, the report said. The proportion of high-quality rice strains reached 69.1 percent in 2006. Wheat, corn and soybeans were 55.2 percent, 42 percent and 65.7 percent respectively.
The non-farming industries have boomed in the rural areas during the 2003-06 period, which has helped push rural economic growth, the report said.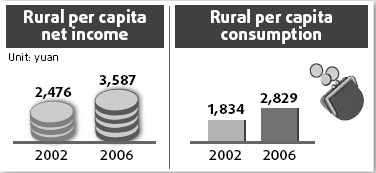 Some rural township enterprises and manufacturers of agricultural products have strengthened their competitive edge by focusing on local advantage and producing organic products, the report said.
In 2006, township enterprises registered a turnover of 24.68 trillion yuan, up 90.2 percent from 2002.
From 2003 to 2006, authorities increased spending on social causes in rural areas, the report said.
The State has initiated a new cooperative healthcare program in rural areas, where farmers shoulder just one-third of insurance costs while central and local governments share the remaining two-thirds.
By the end of 2006, 1,451 counties nationwide, or more than half of all counties, had started the program, which has benefited a total of 410 million farmers, almost half of the rural population.
The rural population covered by the rural minimum living allowance regime increased to 15.93 million in 2006, about four times that of 2002.
The State has also exempted students receiving nine-year compulsory education in the western regions from paying tuition starting from 2006 and offered grants to those from poverty-stricken families.
The new policy will have far-reaching influence on rural education and reduction in farmers' financial burden, the NBS said in the report.
China Daily
(China Daily 09/27/2007 page14)