FENGHUANG, Hunan -- The death toll from a collapsed bridge in central China's Hunan Province has risen to 22, rescuers said on Tuesday.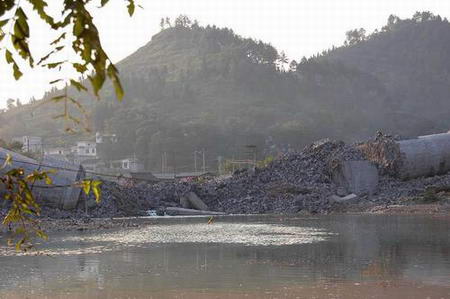 The debris of a collapsed bridge is pictured in this undated photo. A road bridge collapsed at  4:40 pm on Monday August 13, killing 22 workers. [File]
The road bridge, which was being constructed over the Tuojiang River in Fenghuang county, collapsed at 4:40 pm on Monday, blocking the Fenghuang-Daxing highway. At least 123 workers were at the site, according to earlier calculations, but more than 1,000 rescuers are still trying to determine the exact number.
A total of 86 people have escaped or been rescued, of whom 22 were injured, including five who are still in a critical condition, said sources with the local rescue headquarters.
"We didn't see any sign of a problem before the tragedy," said a member of staff at a scenic site close to the bridge who declined to be named, "I heard the sounds of the crash and before I could realize what was happening, I saw the bridge fall slowly and become a pile of rocks."
Sitting by the Tuojiang River, 29-year-old Tian Jing, who was working to build the bridge, is still in shock. He came to work at the bridge from Tuanjie Village in Fenghuang only a month ago. "Three of my fellow villagers were buried in the debris," he murmured, "I wonder if they have been rescued."
Construction of the 328-meter-long, 42-meter-high bridge was scheduled for completion this month and workers have been dismantling steel scaffolding erected during the construction process since mid July.
The project, involving an estimated investment of 12 million yuan (US$1.6m), belongs to Fengda company based in Tujia and Miao Autonomous Prefecture in western Hunan, with the contractor of the provincial Road and Bridge Construction (Group) Ltd. Co. (RBC)
Local police have detained Xia Youjia, construction manager on behalf of RBC, and project supervisor Jiang Ping.
All technical data about the bridge has been sealed up for examination.
Fenghuang, in western Hunan and 700 kilometers away from the capital Changsha, is home to the Tujia and Miao ethnic minorities and a famous tourist destination.
A group of local officials in charge of construction, traffic and work safety supervision headed by the provincial governor Zhou Qiang and vice-governor Xu Xianping have arrived at the site.