SHIJIAZHUANG --Two bank workers were sentenced to death on Thursday for China's largest ever bank theft, involving 50.95 million yuan, in northern Hebei Province.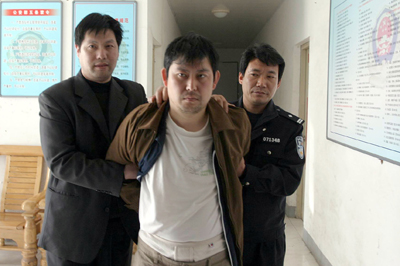 Ren Xiaofeng, 34, who is suspected of stealing nearly 51 million yuan (US$6.5 million) from the Handan branch of the Agricultural Bank of China in Hebei Province last Saturday has been seized by policemen in Lianyungang, east China's Jiangsu province April 19, 2007. Ren's complice 37-year-old Ma Xiangjing was arrested in Beijing Wednesday. Police has recovered 3.4 million yuan.[Xinhua] 
Ren Xiaofeng, 34, and Ma Xiangjing, 37, who worked as vault managers at the Handan branch of the Agricultural Bank of China (ABC), were convicted of theft and were given death penalties at the Handan Intermediate People's Court after first-instance hearings.
Zhao Xuenan and Zhang Qiang, who joined Ren in embezzling 200,000 yuan in October last year, were sentenced to five years and two years in prison with a two-year reprieve.
Song Changhai was jailed for three years for harboring Ma when he was on the run.
Ren, Ma and Zhao planned to appeal, according to a court spokesman.
The court heard that in October last year, Ren conspired with Zhao Xuenan and Zhang Qiang, who both employed to watch the vault to embezzle 200,000 yuan.
The money was spent on lotteries, but Ren later replaced the missing fund after he won a lottery prize, the court was told.
From March 16 to April 14 this year, Ren collaborated with Ma, who replaced Zhang Qiang as a bank employee, and stole 50.95 million yuan in cash. On April 14, the two carried out 18 million yuan.
The theft was reported to police on April 16 by branch managers after they found millions of yuan had gone missing.
The Public Security Ministry placed Ren and Ma on its most wanted list.
Police arrested Ma in Beijing on April 18, and Ren in a rented house in Lianyungang, a coastal city in the eastern Jiangsu Province a day later. Police said they retrieved about 5.50 million yuan and found that about 45.35 million yuan had been squandered on the lottery.
Five bank officials, including Deng Zhenguo, vice president of ABC's Hebei Province branch, and four officials in ABC's branch in Handan city, have been sacked.