Netizens who frequent the forum at oeeee.com, a news blog website from Guangazhou, are now thinking twice about helping someone in distress.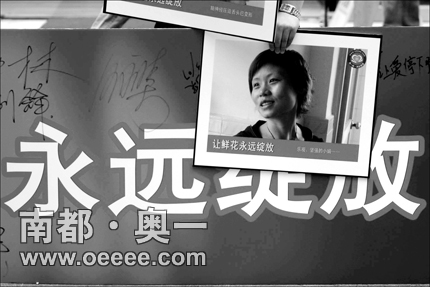 A photo of Guo Xiaojuan is seen on a large signature board during a donation for her in May this year. [oeeee.com] 
On the blog they heard about a 25-year-old girl named Guo Xiaojuan in Shenzhen who was diagnosed with a brain tumor. Many of them hit the streets to raise money for the girl, only to find two months later that she had reportedly reneged on a promise to give away the rest of the donation - estimated at 100,000 yuan.
Guo, a native of rural Shanxi Province in north China, was working in Shenzhen as a migrant worker for five years before she was diagnosed with a brain tumor in May. It is believed the tumor had been there for three years already.
And the young woman had no means to pay for medical treatment since she had spent all her savings on her ill mother.
When her story found its way to the forum at oeeee.com, netizens, were impressed by her filial piety and some of them volunteered to help, particularly those from the same province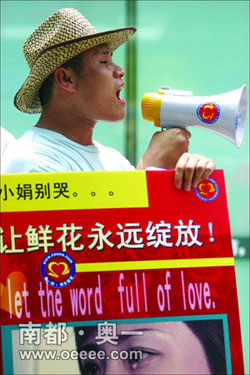 A netizen sings a song during a donation for Xiao Juan in May this year. [oeeee.com]
Shouting slogans like "Xiao Juan loves her mother, and We love Xiao Juan" and holding large photo of Xiao, they twice canvassed donations on the streets. Within two weeks, they raised a total of 152,000 yuan, said a netizen using the name Bafenzhai, who was one of the organizers.
Every thing, including the surgery, went smoothly until July 24, when Guo returned to her hometown with the unused money - about 100,000 yuan since the hospital said the surgery cost about 50,000 yuan.
In addition, Guo was reportedly refusing to have any further contact with the charitable netizens.
"Stop calling Xiao Juan, or else I will call the police." Guo's mother was quoted as warning the netizens.
But this goes against the agreement reached between the organizers and Guo prior to the surgery, that she would give back the unused donations once she got fully recovered.
"Saving lives is our overriding principle. We help those in urgent need rather than those in dire poverty," explained one of the editors of the website named Nanshanfeihu. "There are many others waiting who need our help, and I hope Xiao Juan will donate the money to them."
Guo's alleged reneging on the promise "stunned" some netizens who had helped her. "It is a tragic event. She cheated on our good will," said an unidentified netizen. But some thought Guo was entitled to the donated money and was not obliged to give it away.
In her defense, Guo believes she used the money legally, saying she is not fully recovered yet and is keeping the money so that she cay pay for further recuperation costs.
"No one takes care of me in Shenzhen, so I went back home," explained Guo. "All I want to do now is have a rest and get my health back. When I am full recuperated, I will donate the money to the needy people."
She referred to her mother's warning to avoid further harrassment.
According to Wang Rongli, a lawyer with a Guangzhou-based law firm, there is no legal basis for the organizers demand the donated money back, which was not launched by a well-organized group such as a foundation. "When the money was given to the Guo as a donation, the ownership was also transferred," he said.
He suggests the next time the netizens' organization wants to donate money, they should sign a written agreement on how the donated money should be used since an oral agreement has no legal standing.