SHANGHAI: A mini-landscape of historic architecture, electronic reading materials and a three-dimensional digital cinema were among the multimedia forms displayed yesterday to illustrate the splendid wonderland of the World Expo.
A tour exhibition to promote the 2010 Shanghai World Expo was launched at the city's Urban Planning Exhibition Center yesterday, kicking off a string of activities marking the 1,000-day countdown to the event.
As of yesterday, a total of 158 countries and international organizations had confirmed participation in the 2010 event.
"The tour exhibition is very important for Shanghai to promote the expo and stimulate the passion of ordinary people to get involved in the event," Mayor Han Zheng said yesterday during the exhibition's unveiling ceremony.
It is the biggest media promotion since Shanghai won the bid to host the event in 2002, said Liu Xiuhua, assistant director of the media department of the Bureau of Shanghai World Expo Coordination.
Two small cinemas, including one surrounded by a 180-degree screen, displays promotional videos of the Shanghai expo and a video of World Expo's history.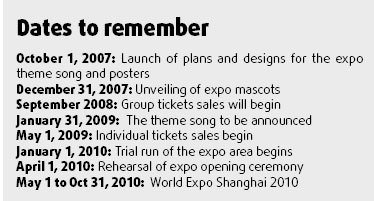 An installation in the "China and World Expo" section allows visitors to read a virtual book that is projected on a stone, and visitors can even turn the pages by simulating the action.
Many inventions that debuted at past World Expos were displayed in model form at the exhibition, from the inventions of Thomas Edison - including the light bulb, telegraph and gramophone - to the elevator, hotdog and zipper.
"It's very impressive. The exhibition gives us a clear idea of what the World Expo is," one visitor said. "I am interested in the more than 20,000 Expo performances to be held during the 2010 event."
A mother, who came with her son, said after visiting the exhibition: "My boy will be 13 years old in 2010. The World Expo is a very important event that will take place close to us. I took him here to experience what it will be like in advance."
Companies such as the Shanghai Auto Industry Corp also participated in the countdown celebration yesterday.
Tickets to the Shanghai World Expo will be put on sale in September, with the benchmark price set at 160 yuan ($21.16). The exhibition will tour cities and regions including Hong Kong and Macao.
(China Daily 08/06/2007 page2)