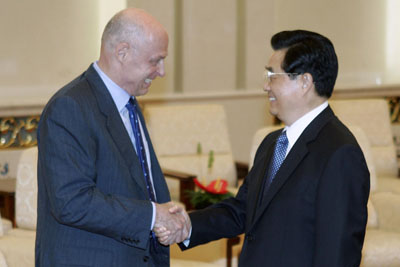 US Treasury Secretary Henry Paulson (L) shakes hands with China's President Hu Jintao at the Great Hall of the People in Beijing, August 1, 2007. Paulson is on a four-day visit to China. [Reuters]
US Treasury Secretary Henry Paulson said Wednesday he was assured that China is committed to currency flexibility and more financial reforms, but Beijing offered no specific changes that could help assuage US congressional ire over China's huge trade surplus.
"I heard from everyone, right up to the top, they are committed to currency flexibility, to currency reform," Paulson told reporters.
Officials said they plan to lift a 10-month-old moratorium on new US-Chinese joint-venture securities brokerages in early autumn, instead of December as originally planned, Paulson said.
The secretary, Washington's point man on China, is trying to avert drastic action by congressional critics who are pressing for punitive measures over Beijing's currency controls and multibillion-dollar trade surplus with the United States.
Beijing had not been anticipated to offer concessions during Paulson's visit. But he was expected to use the trip to try to persuade Congress that his "Strategic Economic Dialogue" is making progress.
Paulson said he discussed that process in meetings with Chinese President Hu Jintao and Vice Premier Wu Yi, Beijing's top envoy to the dialogue. Paulson said he made the case that China would benefit from a faster appreciation of its currency, the yuan. But he gave no indication that Chinese leaders promised a faster rise or any other specific changes.
The secretary declined to give details of his talks with Hu and Wu, saying that would diminish the value of such private meetings.
But Paulson suggested the Chinese might be growing impatient with the wide range of issues raised by Washington.
"They're too polite to say they're frustrated," he said, adding he believes Chinese leaders are wondering if they will ever be able to satisfy Washington.
Paulson said he shared the frustration of American lawmakers at the pace of reform and expressed confidence that they would understand that he is making progress.
However, he acknowledged: "I've got more work to do with Congress."
The secretary also met with China's central bank governor, finance minister and banking and securities regulators.
Paulson has been granted unusually wide access to top Chinese officials in a sign of the urgency Beijing places on preserving trading relations with the United States.
Finance Minister Jin Renqing agreed to hold a meeting in October of the US-China Joint Economic Commission, a forum for discussing financial issues, Paulson said.
Paulson, a former Goldman Sachs chief executive, says Beijing's currency controls are less significant than barriers to foreign competition in its financial industries and other structural factors in driving the trade surplus.
But critics have focused on the yuan, accusing China of keeping it undervalued by up to 40 percent. They say that gives Chinese exporters an unfair price advantage and widens its yawning trade gap.
Chinese leaders say they plan eventually to let the yuan trade freely on world markets. But they say acting too abruptly will hurt China's frail banks and cause financial turmoil.

| | | |
| --- | --- | --- |
| 1 | 2 | |