BEIJING - Hundreds of sections of embankments along China's third-longest river have become loose, threatening the homes of millions of people after three weeks of deadly floods across the country, Chinese media said on Tuesday.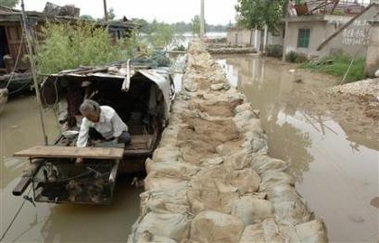 An elderly woman feeds her ducks on a boat, which is her temporary home after the village was flooded, in Fengyang County, east China's Anhui province July 21, 2007.


Torrential rain has wrought havoc across large parts of China this summer, most recently in the southwest and the east, killing more than 500 people and causing billions of dollars in damage.

More rain is forecast.

The swollen Huai River has displaced about half a million residents since the start of this month in the central province of Henan and the eastern provinces of Anhui and Jiangsu, many of whom are still unable to return home.

Tens of thousands of troops were on guard to battle any breaches along the Anhui section of the Huai River, which has reported 546 places of "danger," including 46 serious ones, Xinhua news agency said.

Dozens of villages were deliberately inundated in Anhui to ease pressure at the height of the flood, which Xinhua said was "moderating." That could change with more rain forecast on Tuesday in the upper reaches of the Huai.

"People's physical and financial strength is wearing out. They tend to be less alert," Ji Bing, a top flood control official in Anhui, was quoted as saying.

In southwestern Chongqing, residents were coping with the aftermath of the worst rainstorm in more than a century. At least 42 died in floods, landslides and other disasters.

Tens of thousands of rural residents whose houses were destroyed were living in schools and tents and depended on rations, Xinhua said, adding downpours were expected to batter Chongqing and neighboring Sichuan province again on Tuesday.

Chongqing and Sichuan were suffering their worst drought in over 100 years this time last year, leading some to blame the massive Three Gorges Dam for its uncertain meteorological and ecological implications.

But Xinhua on Monday quoted government experts as saying that there was no evidence to link either the drought or the flood to the dam on the Yangtze River, China's longest.

Heavy rain also hit the southwestern province of Yunnan last week, killing around 60 people. At least 29 workers building a hydro power plant died when mountain mudslides buried their shelters during sleeping hours early on Thursday.

In the northern province of Shanxi, 11 coal miners remained trapped after flash floods triggered by heavy rain submerged their pit on Sunday as rescuers were hampered by rocks and mud, Xinhua said.

Separately, days of scorching heat would continue in five provinces in China's south and southeast on Tuesday, the National Meteorological Centre forecast on its Web site (www.nmc.gov.cn).

Temperatures in the provinces of Zhejiang, Fujiang, Jiangxi, Guangdong and Hunan could reach 39 degrees Celsius (102 Fahrenheit), while that of Turpan in the far-west Xinjiang region could hit 43 degrees Celsius (109 F), the centre said.