BEIJING -- Yu Wen, a second-year graduate student from Beijing University of Chemical Technology, tried hard to explain what he was doing in an experiment called "Superabsorber" to two small kids.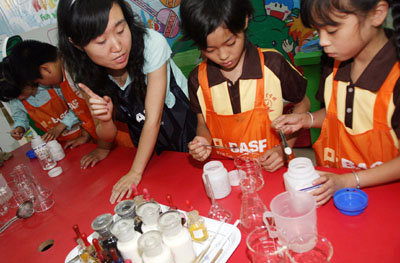 Kids do experiments under a teacher's guidance at Beijing Science and Technology Museum in Beijing July 23, 2007. [Xinhua]
"I'm very pleased to teach these young kids something about chemistry and it's good for them," said the young man who has been a volunteer teacher of Kids' Lab for a second year.
BASF, the world's leading chemical company, staged its sixth annual educational program Kids' Lab at Beijing Science and Technology Museum, for the sixth consecutive year, on Monday.
The week-long program, which was staged in Shanghai early July before coming to the national capital, is aimed at bringing fun and innovative chemistry to children while raising public awareness of sustainable development, according to the company.
"We at BASF believe that chemistry makes our lives better," said Joerg Wuttke, chief representative of BASF China, at the opening ceremony.
"BASF Kids' Lab wants to contribute to a better understanding of innovation built on chemistry," he said.
So far, over 60,000 Chinese students had attended the previous five Kids' Labs, which included a series of experiments such as "Superabsorber", "Chalk Chromatography" and "Paper Making". This year, young visitors will see two new experiments -- "Recycling of Dirty Water" and "Where is Vitamin C?".