Australian Prime Minister John Howard, who has been content with China's rapid development, changed tones on Thursday, saying China's military build-up could risk causing misunderstandings in the region, Reuters reported.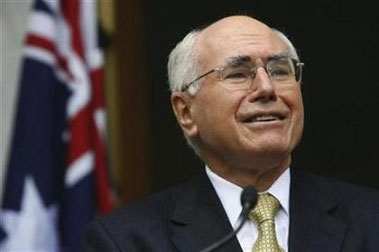 Australia's Prime Minister John Howard speaks during a joint news conference with his Greek counterpart Kostas Karamanlis at Parliament House in Canberra, May 23, 2007. [Reuters]


"The pace and scope of its military modernization, particularly the development of new and disruptive capabilities such as the anti-satellite missile, could create misunderstandings and instability in the region," Howard said at the launch of a new defense paper on Thursday.
Australia, which is a close U.S. ally, has been content with China's rapid economic and defense growth, with China having overtaken Japan as the country's top trade partner, Reuters reported.
But with Washington eyeing Canberra's close relationship with Beijing with some concern, the document launched by Howard, seems to bring his government into closer step with Japan and the United States -- both partners and allies with Australia in security pacts, according to the Reuter report.
"Australia has no closer nor more valuable partner in the region than Japan," the document said. "Japan's more active security posture within the U.S. alliance and multinational coalitions is in keeping with its economic and diplomatic weight," the paper said.
Howard also said Australia's military must prepare for offensive operations far from home.
Howard, who has committed Australia's military to a A$51 billion (US$43 billion) expansion including two new amphibious assault carriers, missile destroyers, tanks and strike aircraft, said Canberra had buried the "self-defeating" idea that Australia's military should be based on home defense.
"It needs to be able to defend our mainland and approaches in the unlikely event these ever come under direct military threat. But it must also be capable of conducting substantial operations in our immediate region, whether alone or as the leader of a coalition, and of making meaningful military contributions as a member of coalitions further abroad," Howard said.