The first Made-in-China Chrysler cars, built by local partner Chery Automobile Co., could reach the United States or Europe within 30 months, as ambitious Chinese rivals race to penetrate the world's big auto markets.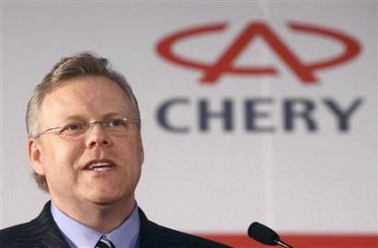 Tom LaSorda, Chrysler Group President and CEO, speaks at the signing of a cooperative agreement with Chery Automobile in Beijing July 4, 2007. [Reuters]
Ten-year old Chery, Geely Automobile and Brilliance China Automotive Holdings already export to developing markets, but have had little success in mature markets where competition is more intense.
The two partners will develop, manufacture and distribute Chery-made small and sub-compact cars in North America, Europe and other major automotive markets under Chrysler brands.
The first exports will be a Dodge model, but will not be to the US or Europe.
"The first product within one year, and then into the United States and Western Europe within two to 2- years," Chrysler Group Chief Executive Tom LaSorda told reporters on Wednesday at a ceremony marking the strategic alliance.
Chrysler needs a partner to help develop small cars because of the cost of designing, making and marketing a vehicle in a segment where prices and margins are small, analysts said.
"I would say there are endless possibilities," said LaSorda. "We are looking at multiple approaches," adding that volumes could be "maybe 50,000 or 100,000 and maybe more" depending on the region.
But like the Koreans and Japanese before them, the price advantage enjoyed by Chinese exporters is offset by poor quality, outdated design and the lack of brand recognition.
A Brilliance unit said last week the failure of its BS6 sedan to pass a crash test in Germany was only a temporary setback and it still expected to sell 158,000 cars in Europe over the next five years.
Jiangling Motors Group's sport utility vehicle Landwind failed the same test in 2005, fuelling doubts about the reliability of Chinese-made vehicles.
China, the world's second-largest auto market, last year became a net vehicle exporter for the first time, but sales were mostly to South Asia, Africa and the Middle East.
The Chrysler-Chery tie-up was first announced last year but was delayed due to the sale of Chrysler by parent DaimlerChrysler AG to Cerberus Capital Management.
Chery, a medium-sized auto company based in eastern China, has posted fast sales growth at home by offering a line-up of inexpensive vehicles, but must convince European and American consumers it can build safe vehicles.
"Quality and safety are our main concerns," said Yin Tongyao, Chery's chief executive.
With the Chery deal, Chrysler sees its sales outside North America doubling over the next 4-5 years, as it branches out from the NAFTA region, its home market.
That development path has helped many local automakers expand rapidly to where they now account for around a quarter of China's car sales -- a market that roared ahead at 30 percent last year -- and could capture a 40 percent share within four years.
Price will continue to be a key selling point for Chinese automakers.
Zhongxing Automobile is planning to export 50,000 pickups and SUVs to Mexico this year as a springboard to break into the US market within two years. The vehicles will on average be a fifth cheaper than comparably equipped brand-name competitors.
(US$=7.60 yuan)