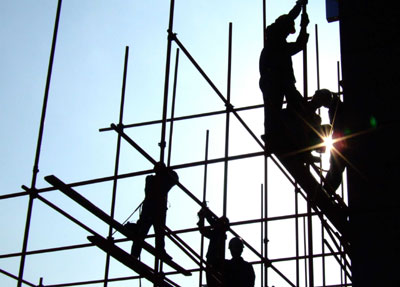 Chinese workers work at a construction site in Shanghai in this file photo. China's economy is expected to grow 10.9 percent this year after a 10.6 percent increase in 2006, a government think tank report said Wednesday. [newsphoto]
China's economy is expected to grow 10.9 percent this year after a 10.6 percent increase in 2006, a government think tank report said Wednesday, urging further economic cooling measures.
The projected annual growth is supported by strong consumption and high levels of fixed-asset investment, said the State Information Centre, a research arm of the National Reform and Development Commission.
Special coverage:
Chinese Economy

Related stories:
Inflation hits 27-month high in May
Trade surplus extends growth in May
Price of pork flies to new high
Consumer price rise slows to 3% in April 
"The trend is of an economy that is moving from a bias of fast growth to overheating," the report published in the China Securities Journal said, adding that the economy was still in an "ascending period" of the cycle.
The forecast is a touch above the 10.8 percent projected last Friday by the research department of China's central bank.
The think-tank, which comes under the National Development and Reform Commission, China's top economic planner, said in a report published in the the China Securities Journal that growth would slow in the second half of the year.
China's economy, enjoying its fifth straight year of double-digit growth, expanded 11.1 percent in the first quarter.
The State Information Centre forecast year-average consumer inflation of 3.3 percent in 2007, a bit higher than the central bank research department's 3.2 percent projection.
The central bank has said its maximum comfort level for inflation is 3 percent. It has raised interest rates twice and banks' required reserves four times so far this year to keep a lid on prices and drain excess liquidity.
The centre said China's stock market would remain highly speculative and volatile as not many stocks are worth holding for the long term due to the poor track record of dividend payouts by listed firms.
"Investors can only seek to make profit from the quick sale and purchase of stocks," the think-tank said.
It urged the authorities to rein in asset prices; the government should boost housing supply at a time when demand remains strong due partly to negative real interest rates.
The State Information Centre said it expected real estate investment growth to accelerate to 28 percent this year from 21.8 percent in 2006. However, it forecast overall fixed-hit 13.6 percent versus 12.7 percent last year.
Tighten macroeconomic controls
The country needs to further tighten macroeconomic controls in the second half, with monetary policy generally stable but needing "appropriate tightening" to ensure economic growth remains rapid but stable.
It said that current real interest rates are comparatively low and that the central bank should raise the benchmark lending and borrowing rates and also increase the reserve requirements of banks.
In addition, the central government should consider removing the tax on interest income from bank deposits, the centre said, a move aimed at staunching the flow of savings into the stock market acccounts.
The report also forecast that growth in China's trade surplus would slow in the second half as tax rebates and the appreciation of the currency, which makes exports from China more expensive, bite.
The trade surplus is expected to hit 275 billion dollars in 2007, up 55 percent from last year, a slower pace of growth than from January to May when the trade surplus jumped 83.2 percent from a year ago to 85.72 billion dollars.
The state statistics bureau is scheduled to announce second quarter data on July 18 at a quarterly press conference.