BEIJING -- Hong Kong has remained as before a magnet since it returned to China 10 years ago, and it will surely witness a "more splendid" future in the embrace of the motherland, Chinese President Hu Jintao said Wednesday.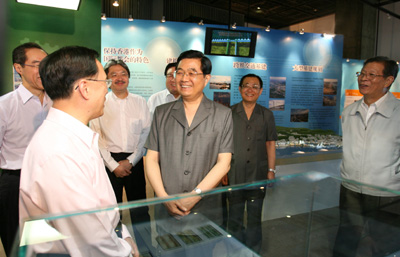 President Hu Jintao (C) visits the exhibition on Hong Kong's achievements in a decade in Beijing's Capital Museum on June 27, 2007. [Xinhua]


Hu made the remarks when visiting an exhibition in Beijing on Hong Kong's achievements in the decade since its return.
Hong Kong's role as a free port and an international finance, trade and shipping center has remained unchanged under the "one country, two systems" policy, which has secured the consistency of the social and economic systems since the special administrative region (SAR) was established there in 1997, Hu said.
The president also said that Hong Kong compatriots has become real masters on their soil as the SAR is witnessing more prosperous economy and the compatriots there enjoying better living and gradually progressing democracy since 1997.
As part of celebrations marking the 10th anniversary of Hong Kong's return to the motherland, the exhibition held in the Capital Museum presented Hong Kong's achievements in the forms of photos, videos, models and other installations.
Hu, accompanied by SAR Chief Executive Donald Tsang, highly praised the achievements that Hong Kong has accomplished. "With the compatriots' united efforts and the solid support from the motherland, I firmly believe Hong Kong will have a more splendid future," Hu said.
Vice-President Zeng Qinghong unveiled the exhibition. Top legislator Wu Bangguo, Premier Wen Jiabao and the other members of the Standing Committee of the Political Bureau of the Communist Party of China Central Committee Jia Qinglin, Wu Guanzheng, Li Changchun and Luo Gan also visited the exhibition Wednesday.