The organizers of the 2008 Olympic Games have announced that they will recruit 21,880 torchbearers for the torch relay, making it the biggest in the Games' history.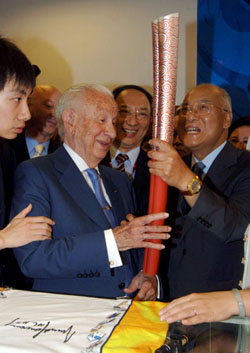 Former IOC president Juan Antonio Samaranch (L) and He Zhenliang, chairman of the IOC's Commission for Culture and Olympic Education, hold up a torch for the 2008 Beijing Olympic Games Sunday at the opening ceremony of the World Olympic Collectors Fair in Beijing. [Xinhua]


The recruitment drive for the bearers kicked off this weekend.

People will have two ways to become torchbearers, according to the recruitment plan for the Beijing 2008 Olympic Games: by being recommended by an authorized organization or institution or through an open selection process.

Among the organizations and institutions tipped to recruit torchbearers are mainland local governments, the Chinese Olympic Committee, the Beijing Torch Relay Presenting Partners, the Olympic Family, cities located along the relay route and Beijing Organizing Committee for the Games of the XXIX Olympiad (BOCOG).

"The selection of the Beijing 2008 Olympic torchbearers will be open to common people," said Zhang Ming, director of the Torch Relay Center. "Anyone who meets the selection criteria could have a shot at holding the Olympic flame."

Zhang said BOCOG had set no limits on the gender, career, nationality or health of the participants, though they would have to be older than 14.

Five percent of torchbearers on the Chinese mainland can be foreigners. People with disabilities are welcome to take part.

In addition, 5,000 escort runners will be selected from colleges and universities on the Chinese mainland.

Chinese Taipei can also kick off its selection of 120 torchbearers for the Beijing Olympic torch relay if it returns to the written agreement reached by Beijing organizing committee and Chinese Taipei Olympic Committee, officials said.

"As far as BOCOG is concerned, the passing of the Olympic flame through Taipei has been defined by BOCOG and the Chinese Taipei Olympic Committee," said Jiang Xiaoyu, executive vice-president of the Beijing organizing committee.

"We hope they will not be influenced by artificial factors and return to the written agreement made by both sides and validated by the International Olympic Committee."

The deadline for submitting torchbearer applications is October 31. BOCOG will make the final selections by the end of this year.

Soon after the recruitment drive was announced, Lenovo nominated the first group of torchbearers. They included Shen Xue and Zhao Hongbo, world figure skating champions; Pu Cunxin, a famous actor and an ambassador for many public service campaigns; and Wang Shunyou, a postman from a mountainous part of Southwest China's Sichuan Province.

The Beijing Olympic flame will be lit in March in Greece before kicking off its 130-day journey, which will cover 137,000 km, including the world's highest peak, Mount Qomolangma.