BEIJING - A teenager "Internet addict" stabbed his mother to death and then seriously injured his father after he was refused money to go to a cybercafe, Beijing News reported Thursday.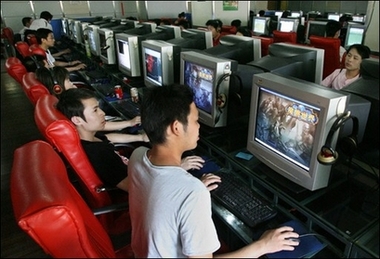 Chinese youth play online computer games at an internet cafe in Shanghai, 22 May 2007. [AFP]


The 16-year-old boy, identified only by his surname Wang, reportedly asked his mother for the money on Tuesday afternoon in their apartment in the southern city of Guangzhou. After she refused, the boy grabbed a knife from the kitchen and stabbed her to death, the report said.

The boy's father Wang Jianjun then rushed into the home and was stabbed three times in the head by his son. He was later rushed to hospital and reported to be in stable condition.

The boy fled the scene but was found early Wednesday morning by local police.

He had actually been planning to kill his parents for more than a month, feeling they were stifling his dreams of someday becoming a politician or economist, the paper quoted the boy as telling police. "Killing them was the only way to free myself." he said.

The paper said the youngster had recently become "addicted" to the Internet, spending long hours at local establishments that provided web access.

His mother's refusal to further finance his habit caused him to finally carry out his murder plan, it said.