GUIYANG -- Guizhou Province in southwest China is striving to bring life back to normal after being hit by devastating floods, gale force winds, hail and torrential rain.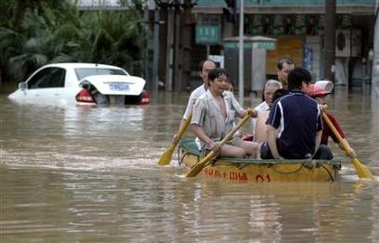 Locals paddle through floodwaters in Liuzhou, south China's Guangxi Zhuang Autonomous Region, June 13, 2007. [Reuters]
Altogether 31 people were killed and six more are missing in floods and other natural disasters this month alone, said the provincial bureau of civil affairs.
In the past two weeks, more than 100,500 residents have been forced to evacuate their homes for safety reasons.
The province has allocated 3.5 million yuan to finance flood relief efforts across the province. An emergency response mechanism has been launched to make sure that the disaster relief operation is carried out in an efficient and orderly manner, said a provincial civil affairs official.
The official estimated direct economic losses in the province from the disasters at more than 460 million yuan (60 million U.S. dollars).
Nationwide, the death toll caused by week-long torrential rains in southern China rose to 76 on Tuesday afternoon, according to the Ministry of Civil Affairs.