HEILIGENDAMM, Germany: Climate change should be tackled in the context of sustainable development and with the principle of "common but differentiated responsibilities", President Hu Jintao said on Friday.

"Climate change is an environmental problem, but it is, in essence, a development issue," Hu said when putting forward China's position on climate change at the outreach session of the Group of Eight (G8) summit in the Baltic resort in eastern Germany.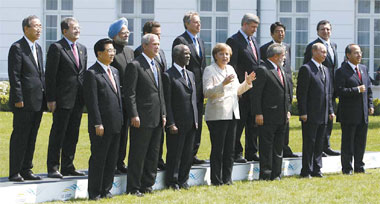 G8 leaders in Heiligendamm, Germany on Friday. [Reuters]


"China remains committed to pursuing sustainable growth," he said.
Leaders of the G8 countries failed to sign up to specific targets in reducing carbon emissions on Thursday, but agreed to at least halve global CO2 emissions by 2050 as part of a UN process.
The G8 comprises Britain, Canada, France, Germany, Italy, Japan, Russia and the United States.
According to a draft of the G8 summit declaration issued on Thursday, leaders agreed that G8 nations should take the lead on further actions on climate change, but major emerging countries, including China and India, should be incorporated in the process.
"We should adhere to the principle of common but differentiated responsibilities established in the UN Framework Convention on Climate Change," Hu said.
"Developed countries should, acting in accordance with this principle, meet the emission reduction targets set in the Kyoto Protocol, provide assistance to developing countries and continue to take the lead in undertaking obligations to reduce emissions after 2012."
The UN-sponsored Kyoto Protocol expires in 2012, and China, as a developing country and a signatory of the protocol, believes post-Kyoto regulations should be part of the UN process.
The United States, the world's largest gas emitter, has refused to ratify the protocol as it remains opposed to mandatory targets citing environmental protection cannot come at the cost of economic growth.
The EU has agreed to cut its greenhouse gas emission by 20 per cent by 2020.
"We welcome the decision and hope other developed countries will undertake similar obligations," Hu said.
On China's efforts to combat the effects of climate change, Hu said the government took the issue seriously and has adopted policies to reduce greenhouse gas emission, even though its per capita carbon dioxide emissions are less than one-third that of developed countries.
Meanwhile, G8 leaders also pledged $60-billion to fight AIDS and other diseases in Africa and restated promises to double development spending.
"We are aware of our responsibilities and will fulfil our obligations," German Chancellor Angela Merkel told reporters.
Campaigners have complained that rich nations have fallen behind on commitments made at a summit in 2005 in Gleneagles, Scotland.
Leaders agreed to earmark $60 billion to fight AIDS, malaria and tuberculosis, global diseases that have devastated African peoples and their economies.
To boost cooperation on international development, Hu made a four-point proposal:
Work together to promote the balanced and stable growth of the world economy
Strengthen cooperation and ensure mutual benefit
Promote balanced and sustainable development
Resolve differences through democratic consultation
Leaders participating in the outreach session of the G8 summit agreed to institutionalize the dialogues between the G8 and five emerging economies.
The planned topic for the new cooperation, which is known as the "Heiligendamm Process", is to send a clear signal allowing mutual freedom of investment under comparable conditions, particularly in energy efficiency.